40th Wedding Anniversary Gifts for Parents
For your parents' 40th wedding anniversary, give them a gift that they'll remember! Our list of 40th wedding anniversary gifts for parents will help you find incredible gifts that will celebrate them.
The traditional 40th anniversary gift is ruby, so we've included a number of gifts that feature ruby red in their colors. But if ruby red isn't your parent's style, many of these gifts can be personalized to suit your parent's style!
If you can afford it, travel can be a great gift for your parent's 40th anniversary. Whether it's a cruise, a weekend away, or a trip to a foreign country, travel can be a great way to show your love. You'll give your parents a special memory to celebrate this important anniversary.
Another great way to celebrate your parent's 40th anniversary is to throw them a party! Invite their friends and family for a celebration they won't forget.
Map Art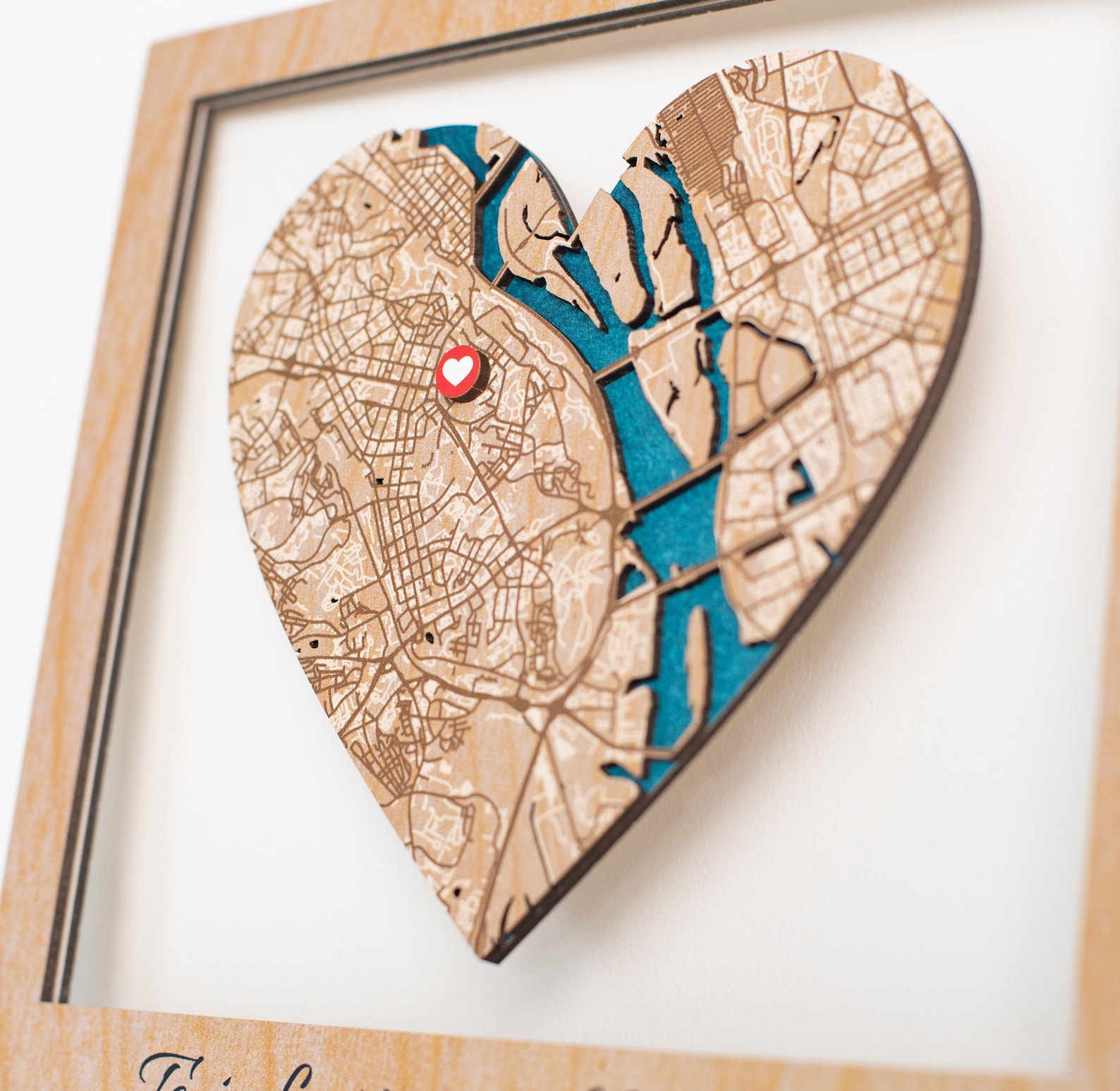 If your parents have a place that is special in their hearts, then Map Art can be a wonderful gift!
Available in a variety of sizes, shapes, and colors, you can create a gift that's truly special and personal to your parents. Simply select a location that is meaningful to them and have it crafted into a wooden map.
This is the type of unique gift that shows them how much you love them!
Personalized Playing Cards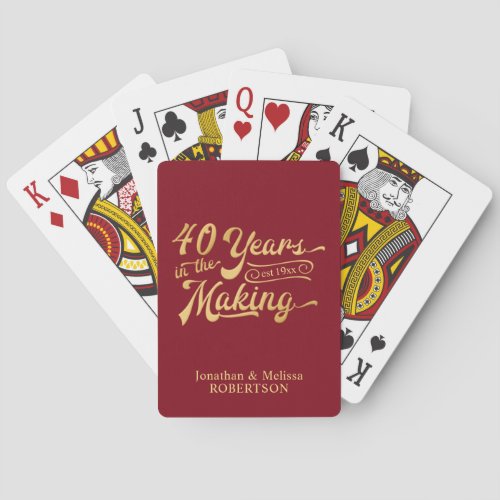 If your parents love to play cards, then this affordable gift is perfect for them!
Featuring the traditional ruby red color, these personalized playing cards include the year they were married and their name. They read "40 Years in the Making" on the face of the card.
This is an affordable but thoughtful gift that your parents will appreciate using! It's something the whole family can do together.
Hand Casting Kit
Let your parents create a cast of their hands with this hand casting plaster kit!
The kit has everything your parents need to create a cast of their hands holding each other. It's surprisingly easy and they will create a plaster cast that will last for years to come.
This long-lasting gift is one that they'll love!
Custom Anniversary Chronicle Page
Remind your parents what life was like 40 years ago!
The Custom Anniversary Chronicle features facts about the world on their wedding day, including cost of living information, top songs and movies, birthdays, and more! It's customized with their name, wedding date and is available in a variety of sizes.
This is a great gift to present to your parents at their party or celebration!
Personalized His and Hers Anniversary Mugs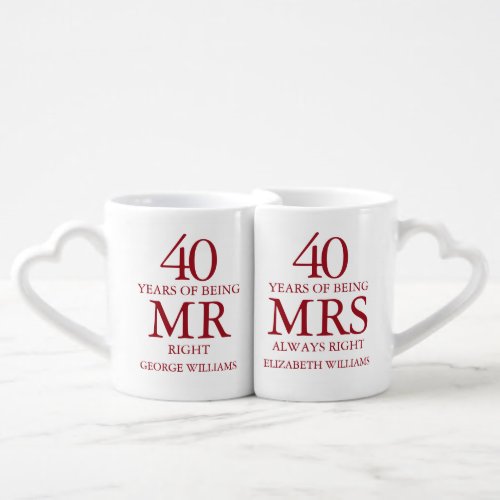 If your mom is Mrs. Always Right, these funny but cute personalized mugs might be a wonderful 40th anniversary gift for your parents!
Featuring heart-shaped handles, this set of mugs has your parents' names. On your dad's mug, it reads "40 years of being Mr. Right" and on your mom's, it reads "40 Years of Being Mrs. Always Right."
The mugs feature ruby red font to stick with tradition, but it's available in other colors, as well, if that's more your parents' style.
Personalized Puzzle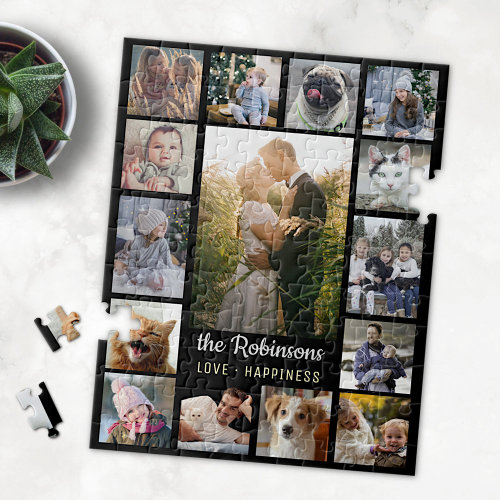 If your parents love puzzles, then they'll love this one-of-a-kind gift!
With up to 12 personal pictures and your parents' last names, this personalized puzzle is a gift that they can do with grandchildren or each other! There are two different color options, and you can customize the second line, so it's truly a personal gift.
If you want a gift that is unlike anything else they'll receive, then this puzzle is it!
Photo Album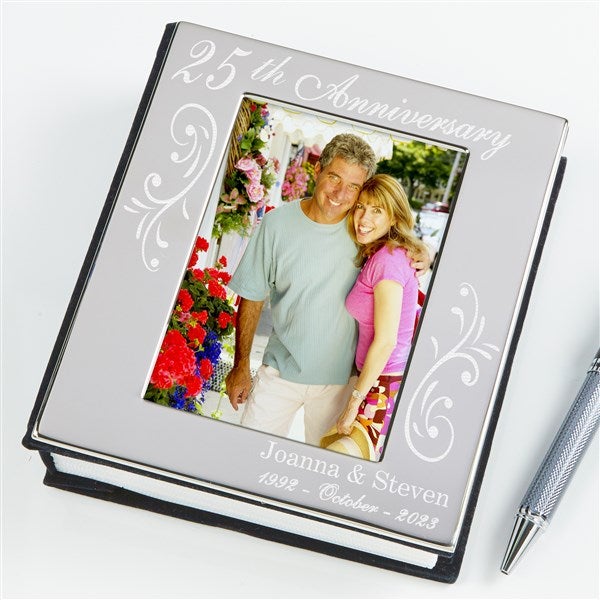 After 40 years of marriage, your parents likely have a huge number of pictures!
Help them celebrate their marriage with a personalized photo album. The cover features their names and wedding anniversary
Custom Bobblehead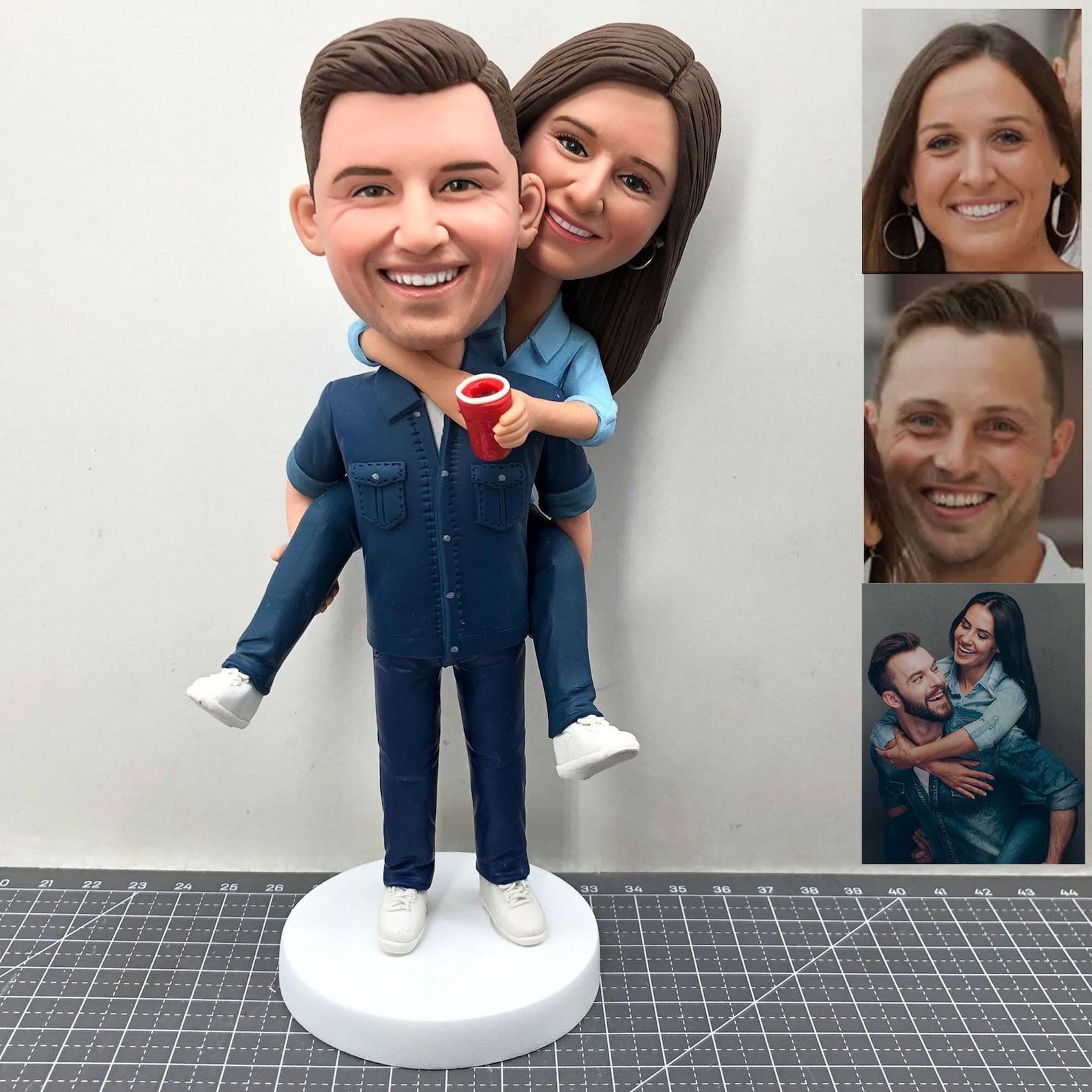 Give your parents a gift they won't forget!
Custom bobbleheads are created by choosing the complexion and hairstyles that match your parents. Several poses are available and you can select from several different heights.
This hilarious gift is creative and fun!
Personalized Ornament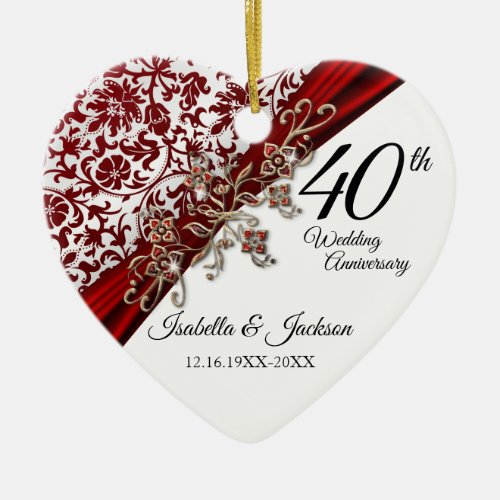 If your parents love Christmas or got married close to Christmas, a personalized Christmas ornament is an affordable gift that they'll love!
This sweet, heart-shaped ornament features their wedding date and names. There's a beautiful, ruby red design on the left side of the heart. The right side reads "40th wedding anniversary."
This gift makes an excellent addition to any Christmas tree!
Family Clock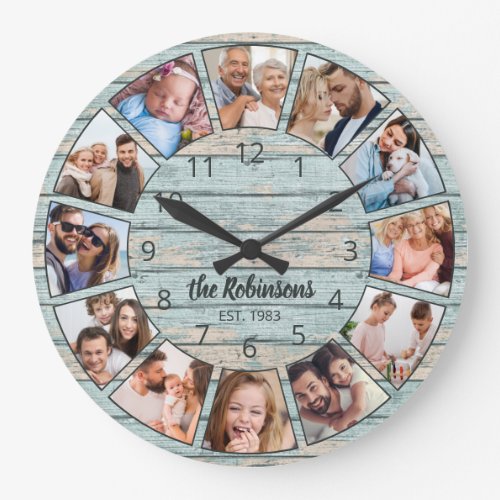 This unique gift celebrates the family that your parents created!
This personalized clock features twelve pictures of your family, the year your parents got married, and their last name. Pick meaningful pictures for a personal gift that is unlike anything else they'll receive.
There's no better way to celebrate your parents' 40th wedding anniversary!
Personalized Sign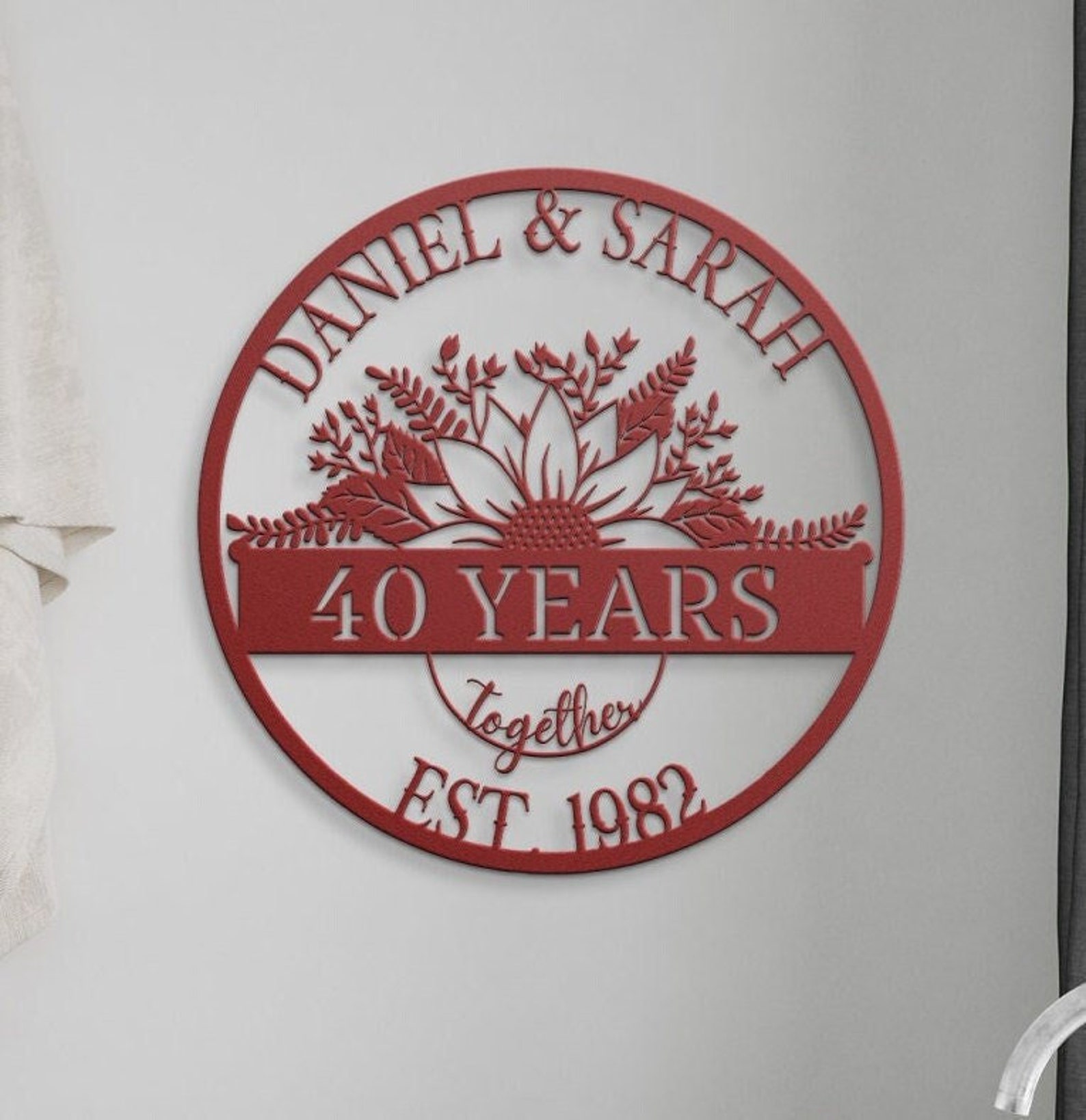 This sweet sign is a thoughtful 40th anniversary gift for parents!
Made in ruby red, the traditional 40th anniversary, the sign features your parents names and the year of their wedding. A fun flower design
This will make a great addition to their wall or garden!
NYT Anniversary Days
40 pages for 40 years of marriage!
The New York Times anniversary edition features the first pages of the New York Times from their anniversary day. It includes major stories throughout the years of their marriage and front pages.
Customized with their names and their wedding date, this is one meaningful gift that they'll truly appreciate.
Cutting Board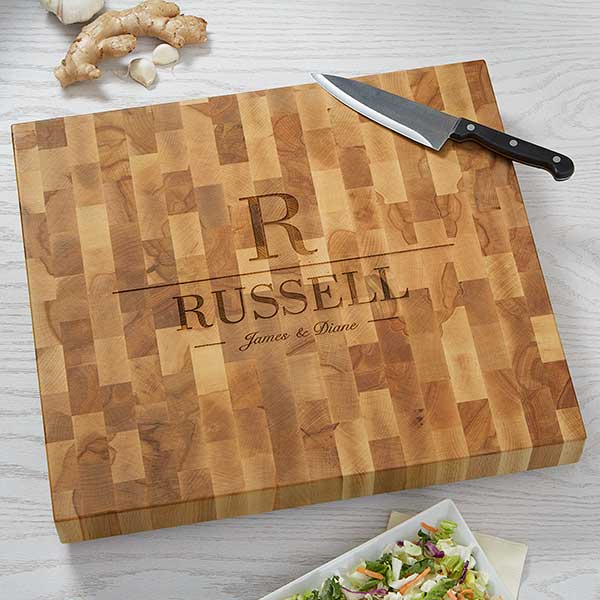 If your parents like to cook, then this personalized cutting board can be a great gift that they both can use!
Made of wood, the cutting board has your parents' last name engraved in a large font, followed by their first names engraved in a smaller font.
Thick and sturdy, this butcher block cutting board is versatile and useful!
Willow Tree Anniversary Figurine
Your parents will love this sweet gift!
The Willow Tree Anniversary Figurine is hand painted and features a figure of a woman leaning on a man. It's only six inches tall, making it a great gift to feature nearly anywhere. A sentiment card that reads "love ever endures" is included.
This sweet and thoughtful gift is a great way to celebrate 40 years of your parent's love.
Gift Basket
If your parents live far away or will be traveling for their anniversary, a gift basket can be a great way to show you care!
This gift basket features pinot noir and cabernet sauvignon as well as a selection of chocolates and snacks. You can add a personalize ribbon for an extra special touch.
Your parents are sure to enjoy this delightful gift!
Personalized Blanket
Your parents love their family, so give them this thoughtful and unique gift that they'll love!
With 19 different pictures of their family, this unique blanket will keep them warm and surrounded by love. It features the word "Family" followed by your parent's last name.
Available in three different sizes and three different color schemes, this personalized blanket makes the perfect gift for your parent's 40th anniversary!
Related: