90th Birthday Gift Ideas to Thrill Mom, Dad, Grandma or Grandpa
It can be difficult to find creative 90th birthday gift ideas, but you'll find an amazing selection of presents here. Whether you're looking for 90th birthday gifts for a man or a woman, you're sure to find the perfect gift to suit your taste and budget.
The Day You Were Born Gifts
A 90th birthday is a time to reflect upon the past, and enjoy the memories that have been created over the past 9 decades. These unique Day You Were Born gifts are sure to spark conversation about how much life has changed.
Day You Were Born Personalized Canvas
Looking for an affordable gift for the hard-to-buy for senior? Impress them with this personalized canvas that is full of information about what was going on the day he or she was born!
Includes a fun cost-of-living comparison between now and then…everyone will be amazed to see how much prices have changed.
Great gift idea for the senior who has everything!
Last updated on September 24, 2023 4:10 pm

The New York Times Front Page Jigsaw Puzzle

Looking for a fun birthday present for someone turning 90? Surprise him or her with a personalized jigsaw puzzle that features The New York Time's front page from the day they were born.
Unique present is available in 3 sizes. If he or she has a hard time grasping small objects, go with larger puzzle pieces.
A fun activity that they can enjoy with family or friends.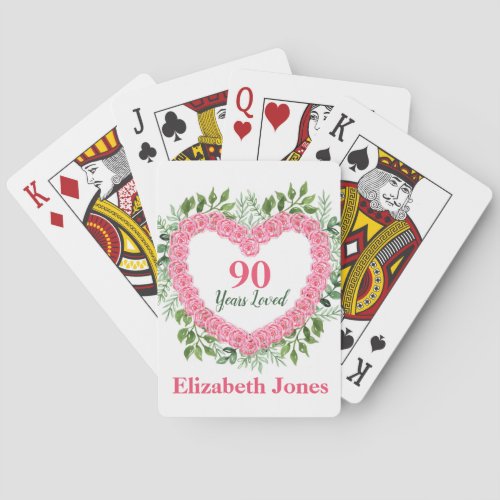 Personalized 90 Years Loved Playing CardsCHECK PRICE
NY Times Front Page from the Day You Were Born ReprintCHECK PRICE
Personalized 90th Birthday Playing Cards – Choice of ColorsCHECK PRICE
90th Birthday Large Print Word Search Puzzle BookCHECK PRICE
Memoir Book
Delight a special senior with this thoughtful memoir book! Elegant book is filled with almost 500 fun questions that will help recall a lifetime of memories.
The recipient will love sharing these favorite memories with family and friends.
90th Birthday Blankets
Choice of 5 Colors
A gorgeous blanket is a wonderful gift that's both practical and useful (for some reason, seniors always seem to be cold). It's also a great gift idea for the man or woman who's in a nursing home or is wheel-chair bound.
Your favorite senior can wrap up themselves up in love with this delightful personalized blanket that features up to 21 family member's names.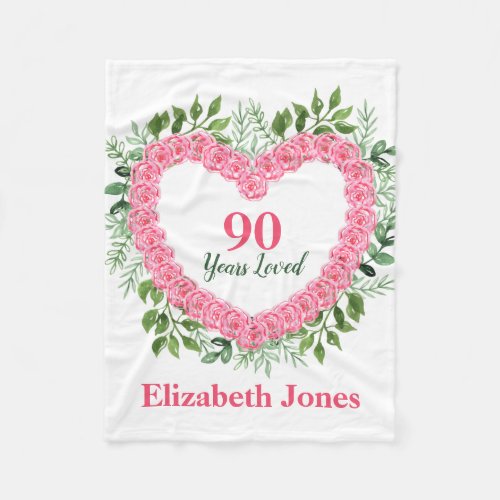 Personalized 90 Years Loved BlanketCHECK PRICE
Personalized World's Most Awesome 90 Year Old BlanketCHECK PRICE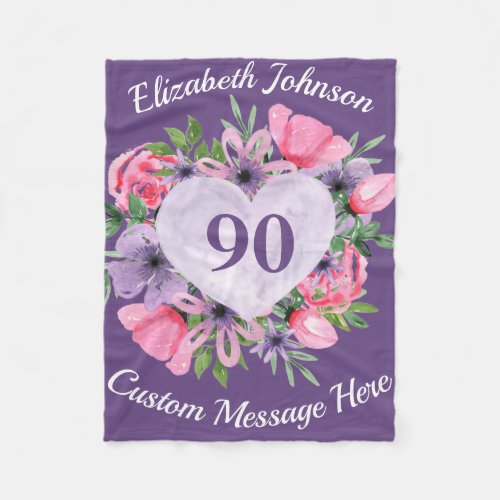 Floral Purple 90th Birthday Blanket for WomenCHECK PRICE
Personalized Blanket with Grandkids' Names –CHECK PRICE
The New York Times Custom Birthday Book
Every Birthday Front Page for All 90 Years
Looking for a unique birthday present for the man or woman who is turning 90? Thrill them with The Custom Birthday Book from The New York Time. It features every birthday front page for all 90 years – a wonderful stroll down memory lane!
A thoughtful gift that is sure to spark conversations and memories!
Enjoy Free Shipping on up to two Custom Birthday Books or Ultimate Birthday Books at The New York Times Store. Expires 12/31/23.
Use Code: BDAYBOOKSHIP
Easy-to-Use Digital Photo Frame (Manage Remotely)
Affordable digital picture frame is the perfect way to keep their loved ones close by, no matter where in the world they may be.
Family and friends can share videos and photos via email or smartphones, making it easy to keep up-to-date on their latest adventures.
They can even receive weather forecasts for their favorite countries and cities.
It's easy to manage remotely, so your favorite senior doesn't need any technical knowledge or skills to use this.
Tip: Add photos to the frame before you gift it so that they can enjoy seeing the pictures as soon as they open it!
Funny 90th Birthday Gifts
As you get older, it's important to keep a positive outlook on life. What better way to do that than with Dr. Seuss' classic You're Only Old Once?
Packed with laugh-out-loud illustrations and rhymes, it's just what the doctor ordered for someone celebrating this milestone birthday!
Last updated on September 24, 2023 4:10 pm
90th Birthday Picture Frames
I'm a huge fan of personalized photo frames – a personalized frame doesn't cost that much more than a traditional frame (these frames start at under $25) and you can customize them with any name.
They make a much more unique and thoughtful gift than a traditional frame – and after all, you want your 90th birthday gifts to wow the recipient.
This striking frame pictured above comes in your choice of 6 colors.
It ships in just one or two days…perfect if you need a last-minute gift!
90th Birthday Gift Baskets

Everyone, no matter what their age, loves a gift basket! I was thrilled when I found out that my favorite gift basket shop, GiftTree, makes personalized ribbons for some of their most popular baskets.
Each of these baskets can be customized with a ribbon personalized with 45 characters – plenty of room for a unique message!
If you've left your shopping until the last minute, GiftTree offers next-day delivery on several of these baskets.

Harry & David Birthday Gift TowerCHECK PRICE
Around the World Beer Gift BasketCHECK PRICE
Champagne & Truffles Gourmet Gift BasketCHECK PRICE
90th Birthday Childhood Candy Gift BasketCHECK PRICE
---
90th Birthday Photo Collage

Delightful picture collage is a wonderful way to show off favorite memories. Personalize this unique present by adding 10-65 pictures.
Perfect 90th birthday gift idea for the man or woman who has everything!
Photo Collage Blanket – Choice of StylesCHECK PRICE
90th Birthday Photo Collage PillowCHECK PRICE
100 Pictures Heart Collage with Personalized MessageCHECK PRICE
90th Birthday Photo Collage ClockCHECK PRICE
90 Reasons We Love You Gifts

This will probably the sweetest gift they've ever received! Gather together a list of 90 things you love about the recipient, and then have a beautiful canvas or poster created with all the reasons.
Etsy has a wonderful selection of Reasons Why posters and canvases that are fabulous 90th birthday gifts for either male or female. If you're good at Photoshop or Microsoft Word, you can buy templates for under $10.
Floral 90 Things We Love About You Digital PrintCHECK PRICE
90 Years Loved Personalized PrintCHECK PRICE
Free Printable 90 Reasons We Love You Book

Looking for a meaningful 90th birthday gift for Mom, Dad, Grandma or Grandpa? Print out this free book and fill it out with 90 reasons you love him or her.
Just click on the image above; the book will open in a new window, ready to print.
90th Birthday Coffee Mugs

Is the birthday man or woman a coffee or tea fiend? Then he or she will definitely enjoy a birthday mug that commemorates this amazing occasion!
Adorable The Day You Were Born mug pictured here is personalized with their name, and features highlights of the worthy events that were happening when he or she was born.
It's a fun and inexpensive gift on its own, or you can use it to make a clever 90th birthday gift basket.
It Should Be Against The Law to Look This Good at 90! MugCHECK PRICE
Personalized 90th Birthday Mug for WomenCHECK PRICE
Personalized 90 Years Loved MugCHECK PRICE
It Took 90 90 Years Funny Coffee MugCHECK PRICE
Unique 90th Birthday Personalized Canvas

Beautiful personalized canvas is a fabulous way to honor a life well lived! It's such a lovely way to remind the recipient of how amazing their life has been.
90th Birthday Gift Ideas for Women
90th Birthday Jewelry
Jewelry is always a fabulous choice for any birthday! Thrill Mom, Grandma or another special lady on her 90th birthday with a beautiful necklace or bracelet.
Gorgeous "9 rings for 9 decades" necklace is an elegant look that honors her 90 years without screaming her age. Choose from gold or silver; you can add an optional birthstone for a special touch.
Last updated on September 24, 2023 4:10 pm
Keepsakes for Special Women in Your Life
These sentimental keepsakes would make wonderful 90th birthday presents for any special woman that you're close to. These gifts can all be personalized with any name or title you'd like, so they're an especially thoughtful and heartfelt gift that any woman will cherish.
The poetry gifts can each be personalized with a heart-felt poem or letter that you've written yourself. Too hard to put words to your feelings? Don't worry, you can also choose from several beautifully pre-written poems for these keepsakes.
---
Personalized Gifts from the Family
Thoughtful 90th Birthday Gift Ideas for Mom or Grandma
What has brought Mom or Grandma more joy in her life than her family? The 90th birthday is a wonderful time to remind her of how special she is, and how much her family loves her.
These sentimental gifts are personalized with the names of her loved ones, and are sure to bring Mom or Grandma pleasure on her birthday and throughout the year!
---
Personalized 90th Birthday Gifts for Men
Unique Presents for Dad, Grandpa, or Any Special Man
---
90th Birthday Gift Ideas for Dad or Grandpa from the Family
These thoughtful 90th birthday gifts for men are personalized with the pictures or the names of his loved ones. They're a wonderful reminder for Dad or Grandpa of how many people love him.
---
Traditional 90th Birthday Gifts
Many people ask, "What are the traditional 90th birthday gifts?" Actually, there are no traditional 90th birthday gifts or colors.
Traditional colors, flowers, jewels and gifts are for anniversaries, not for birthdays. So feel free to purchase any 90th birthday presents you like, without worrying about color or tradition!
---
90th Birthday Flowers
Many people think of flowers as a traditional birthday gift, and flowers are an excellent choice! A 90th birthday calls for something a bit more special than just a normal bouquet.

Impress Mom, Grandma or another lady who is turning 90 with a real rose that's tipped in gold. Much more memorable and long-lasting than a traditional birthday bouquet of flowers!