Every college has different regulations on what they allow in their dorm room – make sure you check with your school on what is and isn't allowed.
Looking for a list of college gear that isn't on packing lists? Check out our list of 12 unusual items to bring to college!
Dorm Bed Essentials
Dorm Bed Shelf
If your student's bed is going to be lofted, then a dorm bed shelf is a must have! These attach to the bed frame and serve as a night stand and hold drinks, phones, or anything else that you would want near you while you sleep.
Mattress Protector
Don't be caught without a Mattress Protector! This will keep your sheets safe from whatever the previous owner did on the mattress – from fluids to dust mites to bacteria, this will help protect form all of it.
Twin XL Sheets
Like a good mattress protector, a quality set of sheets can help make a dorm bed feel homier and nicer. Most colleges have twin XL beds in their rooms, but it's important to check with your college to ensure you buy the right size.
Looking for ways to decorate your dorm room? Check out our post on Dorm Room Decorations!
Dorm Bath Supplies
Shower Tote with Phone Holder
Will your student be sharing a bathroom with several other students? Do they love to listen to music in the shower? If so, then this Shower Tote with a Phone Holder is perfect! Designed to keep their phone safe while transporting their shower necessities, this is perfect for getting them and all their stuff to and from the bathroom.
Toilet Paper
If your student will be living in a suite with a private bathroom, they'll need to provide their own toilet paper. We recommend bringing a large pack of toilet paper when you move in so you don't have to restock anytime soon.
Shower Shoes
If your student is in a dorm with communal bathrooms, then these Shower Shoez Flip Flops are a must-have. Unlike normal flip-flops, they have holes in the bottom, allowing water to trickle down instead of getting caught in a puddle. Your student's feet will thank you!
Towels
It may seem like a no brainer, but they're definitely not something you want to forget! A nice set of towels is an absolute must-have in a dorm. You may want to get a set of two, so that way you don't run out if the washing machine is taken.
Dorm Room Organization
Stackable Hangers
Dorm room closets are small, and clothes have to fit into that small space. Stackable Hangers combats that problem by allowing you to hang up multiples clothes in the same area. They're a smart way to save that precious space in a dorm!
Storage Cart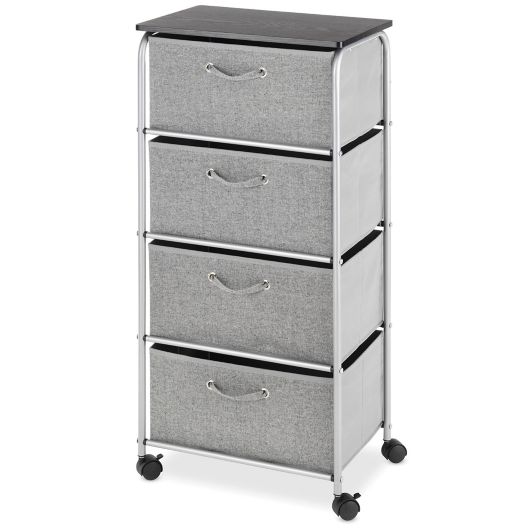 Dorm rooms are notorious for having few storage places. That's why you need a Storage Cart to help store all your stuff! They're perfect for food, study gear, clothes, and more.
Gadgets
Six-Foot Phone Charger
Most dorm beds come lofted, so they're a lot higher off the ground than normal beds. Unfortunately, the same is not true of outlets. If your student wants to charge their phone and bed (and believe me, they do), they'll need at least a six-foot-long phone charging cord. It's also great for when they're studying and they can't snag the table closest to the outlet!
An Amazon Kindle
Did you know that many textbooks can be bought electronically for a lower price than the hardcover edition? Your student needs an Amazon Kindle to be able to take advantage of the lower-cost e-textbooks. They're also much easier to carry around!
Surge Protector
This is a college dorm essential you don't want to forget! Many dorms are older with few outlets, and many do not allow extension cords. Surge Protectors with USB is a great way to ensure you'll be able to plug in all your electronics. The USB ports allow you to charge your phone, too!
HDMI Cord
If you want to connect your devices to the TV, you're going to need an HDMI cord. Whether it's for Netflix and chill or to use your television as a computer monitor, this is one dorm essential you don't want to forget!
College Dorm Kitchen Supplies
Microwave Pasta Cooker
Shared kitchens can get crowded or even close at certain hours, and having the option to make pasta whenever you want can be a huge advantage. This Microwave Pasta Maker solves that by cooking pasta perfectly in the microwave.
Keurig Coffee Maker
You need coffee to get you to those early morning classes on time. A Keurig Coffee Maker is perfect for making just enough coffee for one person, just the way you like it. It's a lot cheaper than hitting Starbucks every day! And if you're planning on bringing lots of K-Cups with you, don't forget the k-cup holder!
Can Opener
A Can Opener is one of the college dorm essentials I forgot when packing for college. From soup to canned pineapple, it turns out there were a lot of easy, cheap staple foods I wanted that needed one. Make sure to bring yours!
Dish Washing Kit
Although those dorm cafeterias make great food, at some point you'll be cooking in your dorm. You need a dish washing kit to keep those dishes clean. Your roommate will thank you. Don't forget the dish soap, too!
Study Supplies
Lap Desk
Whether they use it for studying or a make shift table, lap desks are extremely useful in college. It allows your student the flexibility to move around while they study, but still have a hard surface to write or type on.
Noise Cancelling Headphones
Between the student union, the library, and the dorm, it can sometimes be hard to find a quiet place to study. Noise-canceling headphones ensure that you can get a quiet study environment no matter where you're studying!
Laptop Backpack
You bought the expensive laptop, now make sure it's safe as it journeys to and from class, the library and the coffee shop. A sturdy laptop backpack is a necessity for any college student
so that their laptop can be padded as it travels.
Miscellaneous Essentials
First Aid Kit

At some point, your student will get sick or injured while they're away, which is why they need a first aid kit. Packed with essentials such as cough drops, allergy medicine, pain relievers, and more, this kit will get them through most minor illnesses.
Small Tool Kit
A Dorm Tool Kit is an essential that few people think of! Send one with your student and they'll be prepared for when something breaks or needs some assembly. They'll also be the most popular person on the floor – few students bring one!
Laundry Hamper
You need a place to store and transport your dirty laundry, even if it's to Mom and Dad's house! We recommend this Pop Up Mesh Laundry Hamper. It folds flat so it won't take up space between uses, and it comes with pockets for all your laundry essentials!
Fan
Generally, you can't control the temperature in your dorm room. That's why a high speed fan is so important! It will help you keep cool on the hottest days, and it can work as a white noise machine if your neighbors are loud.