The first Father's Day is an important one! Make it memorable by selecting the perfect gift for the new father in your life. From gifts that are meaningful to gifts that are practical, we have gift ideas for the new dad in your life!
Meaningful Gifts
Personalized First Father's Day Baseball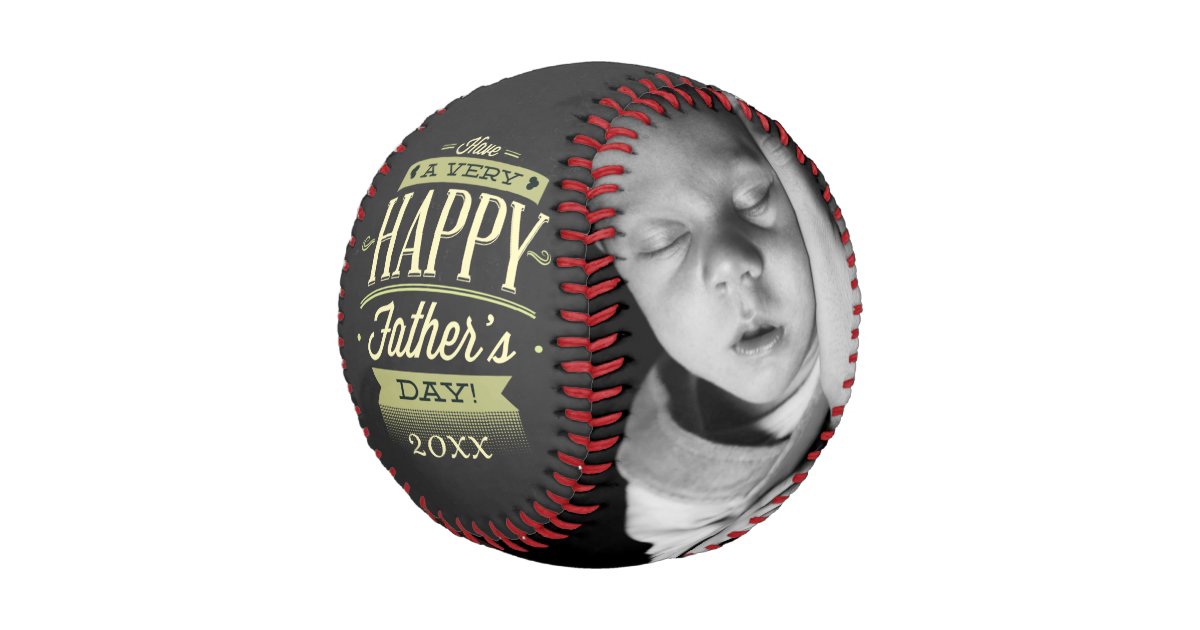 If you're looking for a precious gift that he'll be able to cherish for a long time, then consider a Personalized Baseball! You customize the year and add pictures of your own baby for a wonderful gift. If you want to step it up even further, then consider adding a baseball holder for him to store it in.
Willow Tree New Father Figurine
This beautiful Willow Tree New Father Figurine is a wonderful, meaningful gift to celebrate this special Father's Day. Hand painted, it includes a card with a sweet message.
Hand Print Kit and Picture Frame
A Handprint Kit and Picture Frame is a great way to "freeze" time so he can always remember just how little your baby was. It's a meaningful gift that he can look back on for years to come!
Funny Gifts
Achievement Unlocked Shirt
Perfect for any gaming father, this Achievement Unlocked: Fatherhood is a fun gift. It comes in several sizes and makes for the perfect way to celebrate this exciting achievement!
Dad Jokes Book
He's a dad now, so it's time for him to start practicing those infamous jokes. 101 Dad Jokes makes for a great gift for all new dads!
"I'm Your Gift" Onesie
Babies are a gift; remind him of it with this I'm Your Father's Day Gift Onesie. It comes in several sizes and colors, so you can pick the perfect combination for your baby, er, gift.
Practical Gifts
Diaper Dad Backpack
Every dad should be changing diapers, so every dad needs a Diaper Dad Backpack. This more masculine version of a diaper bag comes with all of the features you would expect, such as changing pad, a bottle holder, and more!
French Press
With a new baby, the need for caffeine increases. That's why a French Press coffee maker makes a wonderful, practical gift! To make the gift perfect, include a set of gourmet coffee and a funny Father's Day Mug.
Coffee Mug
Many new dads need to increase their coffee intake, which is why a personalized coffee mug makes a great present! You can pick the year, the message, and the pictures to ensure it's the perfect gift.
Millennium Falcon Tie
Take the traditional Father's Day Gift, a tie, to the next level with a Millennium Falcon Tie. It's the tie he'll love and actually use!
Ergobaby Omni Baby Carrier
Give him the gift of being able to be on the go! The Ergobaby Omni Baby Carrier is available in a variety of colors and is appropriate for newborns to toddlers.
Gifts to Help Him Relax
Personalized Beer Mug
There's nothing quite like cracking open a cold one after a stressful day. Get him a personalized beer mug that you customize with his name to help him relax after a long day!
Golf Balls
Let's face it: He is the Best Buckin' Dad Ever. So why not give him these clever Best Buckin' Dad Ever golf balls for the next time he hits the links?
Inflatable Hot Tub
If a real hot tub isn't realistic right now, then get the next best thing! Inflatable hot tubs are portable, fun and can fit up to six people. What more could he want?
Neck Massager
A neck massager is a must-have for any new parent! This makes for a great, practical gift that will help him relax and he can use it for a long time coming.
Golf Gift Basket
Get him ready for his next round of golf with a Golf Gift Basket! It comes with golf balls, tees, and more, plus you can add on additional items and have it personalized. It's a great gift!
Hammock
This summer, let him relax outside with a comfortable hammock. Available in different colors, this is one gift he'll be able to use for a long time!
Gifts from the Baby
Picture Frame and Poem
If your baby could talk, we're sure that they would say exactly what is written in this sweet poem. This Poem and Picture Frame combo makes a cute gift that you can give from your newborn to their dad. What a sweet idea!
My Daddy Rocks Guitar Pick
Even if they're not yet old enough to know just how cool their dad is, they still know he rocks! A Daddy Rocks guitar pick is a great gift from any rockabye baby to any rock-n-roll dad!
Related: