Gift Ideas for 85 Year Old Woman
Looking for fabulous gift ideas for an 85 year old woman? Delight Mom, Grandma, or any special 85 year old lady with one of these awesome presents!
The New York Times Custom Birthday Book
Every Birthday Front Page from All 85 Years!
This best-selling 85th birthday gift is a great way to celebrate this milestone birthday! It includes every New York Times birthday front page from all 85 years.
The striking book is personalized with her name and birthdate, and is available in 2 cover styles and 7 colors.
A gift that is sure to spark memories and conversation!
85th Birthday Blankets
Many women seem to feel cooler as they get older, so super-snuggly blankets like the one pictured are great gift ideas for 85 year old woman!
Add up to 21 names or words to be printed in a heart shape. Although it's shown above with loved one's names, you can add other words to the blanket that have significance to both the giver and the recipient.
It's a wonderful present for any elderly lady, including a woman in a nursing home.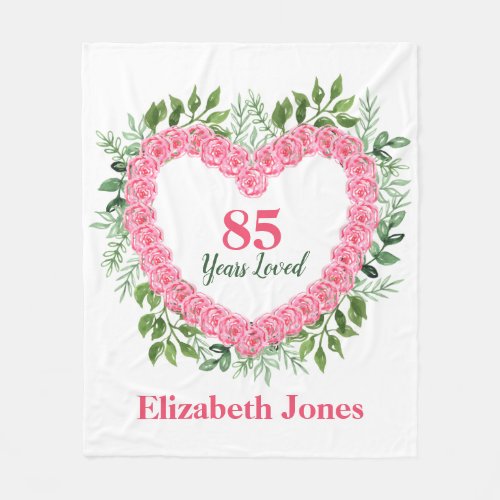 85 Years Loved Personalized Blanket for WomenCHECK PRICE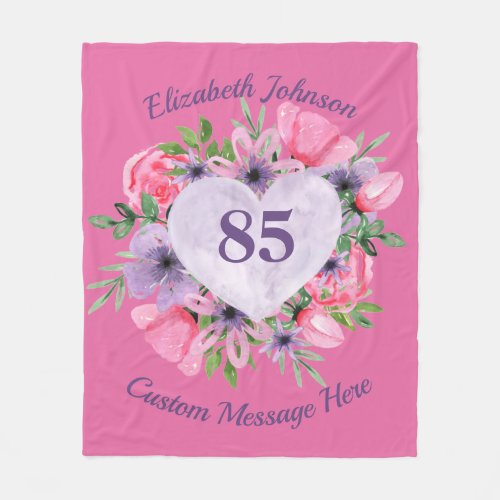 Personalized 85th Birthday Blanket for Women – Pink or PurpleCHECK PRICE
Personalized Blanket with up to 30 NamesCHECK PRICE
Heated Electric Throw Blanket – 5 ColorsCHECK PRICE
The Day You Were Born Canvas
A milestone birthday is a wonderful time for looking back at how life has changed over the years – and this unique gift is a clever choice!
Striking keepsake canvas is personalized with the birthday woman's name and birth date. It also features interesting trivia about what life was like on the day she was born.
One of our top gift ideas for an 85 year old woman who has EVERYTHING!
85th Birthday Pillows
At 85, any woman deserves a chance to sit back and relax! She'll feel much more comfortable with an adorable 85th birthday pillow.
Zazzle offers over 30 festive 85th birthday pillows– many can be personalized with her name and a loving message.
Great gift for any 85 year old woman, but an especially good idea for the woman who is in a nursing home or wheelchair bound!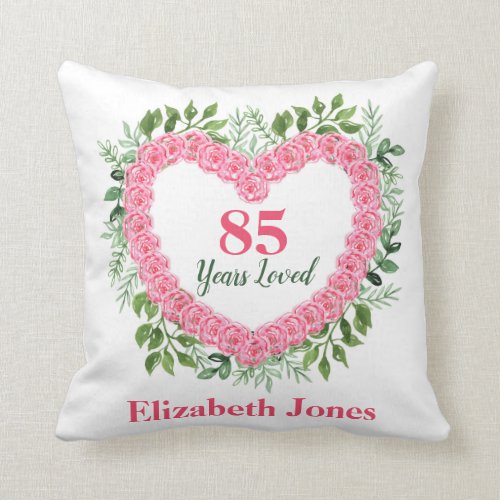 Personalized 85 Years Loved PillowCHECK PRICE
Personalized Pillow with up to 21 Names – 5 ColorsCHECK PRICE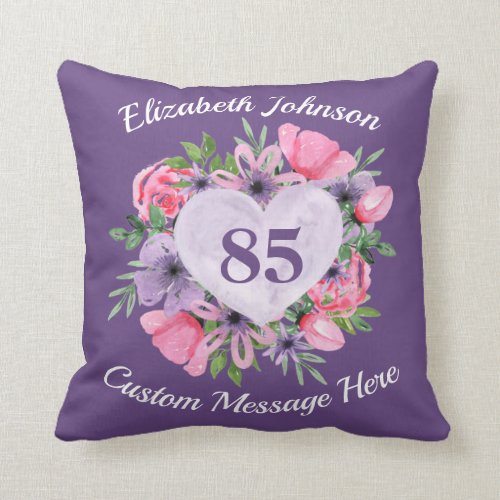 Personalized 85th Birthday Pillow for Women – Pink or PurpleCHECK PRICE
Shiatsu Neck & Back Massaging Pillow with HeatCHECK PRICE
Story of a Lifetime Memoir Keepsake Book
At 85, she definitely has a story to tell! Record her life's story with this unique memory keepsake book!
Striking book features roughly 500 thought-provoking questions for her to answer and document her life. She can work on the book by herself, or with loved ones.
A priceless gift for her and a treasured family heirloom for future generations,
New York Times Front Page Puzzle
Bring history to life with this one-of-a-kind puzzle that lets her piece together The New York Times headlines from the day she was born.
Available in 3 sizes (choose larger pieces if she has issues picking up smaller pieces), it's a great gift that she can enjoy alone or with family and friends..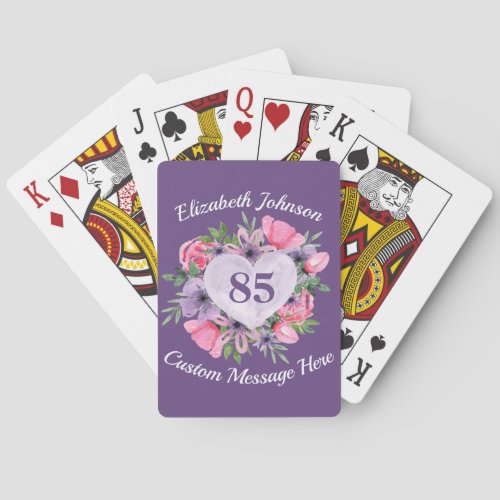 Personalized 85th Birthday Playing CardsCHECK PRICE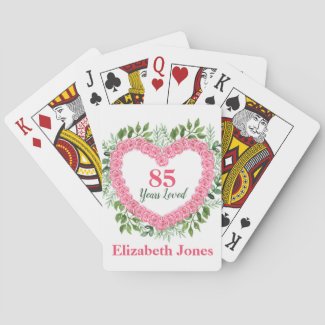 85 Years Loved Personalized Playing CardsCHECK PRICE
Funny 85th Birthday Gifts for Women
Does the birthday gal have a great sense of humor about aging?
Then get her this clever book that makes fun of growing older….after all, she should have a bit of laughter on her birthday!​
85th Birthday Jewelry
Most women love getting jewelry for their birthday, but she probably doesn't want a necklace that screams "I'm 85!"
Go for a more understated and stylish look, such as this beautiful 1935 half dollar coin necklace pictured above. Birthstone charm adds the perfect amount of sparkle!
85 & Fabulous 85th Birthday Bangle BraceletCHECK PRICE
Family Tree Necklace with Names and BirthstonesCHECK PRICE
85th Birthday Necklace for WomenCHECK PRICE
1935 Sterling Silver Dime Bangle BraceletCHECK PRICE
The Best Things in Life Friendship Candle
Inspirational candle holder will warm her heart when she reads this loving message:
"The best things in life are the people we love, the places we've been, and the memories we've made along the way."
It's a wonderful sentimental gift that she can enjoy daily.
85th Birthday Flowers
For a momentous occasion like this, think beyond normal flower bouquets and give one of these memorable floral gifts.
Personalized 85th Birthday Flower Vase
Every birthday woman deserves flowers, and this lovely personalized vase is the perfect present for this milestone day!
Choose from 5 sentimental verses or create your own for an extra special touch.
24k Gold Trimmed Real Rose – 15 ColorsCHECK PRICE
85th Birthday Flower Pot – with up to 21 NamesCHECK PRICE
Waterford Crystal Glass Rose – Pink or RedCHECK PRICE
Birth Month Flower Necklace with Real Dried FlowersCHECK PRICE
Cake Made from Flowers
Any woman who is turning 85 has received her share of flowers. Most likely, she's never been give flowers like this striking arrangement!
Seasonal flowers are artfully arranged to resemble a colorful birthday cake, complete with candles. Great last minute gift – it can arrive on the same day!
Personalized Illuminated Floral Centerpiece for MomCHECK PRICE
85 Reasons We Love You Personalized PosterCHECK PRICE
Illuminated Thomas Kinkade Stained Glass Hope CrossCHECK PRICE
Birthstone Wishing Ball – Holds a Year of WishesCHECK PRICE
85th Birthday Gift Baskets for Women
Delight her with a delicious 85th birthday gift basket! GiftTree is my top choice for top-quality gift baskets for any occasion.
They have an delightful selection of gift baskets with prices starting at under $30.
You can add a personalized ribbon with your own Happy 85th Birthday message to many of the gift baskets.
If you need a last minute gift, be sure to check out their same-day delivery gifts.
Retro Candy Happy 85th Birthday Gift BoxCHECK PRICE
1935 Was a Great Year Vintage Candy Gift BasketCHECK PRICE
Godiva Birthday Chocolate Gift Box – Free ShippingCHECK PRICE
Happy Birthday Cookie Gift Basket Tin – Free ShippingCHECK PRICE
85th Birthday Coffee Mugs for Women
Any 85 year old woman can use a little jolt of caffeine to get going in the morning!
Make your favorite 85 year old lady smile each morning when she uses this fun personalized 85th birthday mug.
A cute little present all by itself, or you could fill it with coffee, tea and a few candies to make a darling gift basket.​
Personalized 85th Birthday Coffee Mug for WomenCHECK PRICE
Funny 85th Birthday Coffee MugCHECK PRICE
85th Birthday Trump Themed Coffee MugCHECK PRICE
Happy 85th Birthday Coffee MugCHECK PRICE
New York Times Your Special Day Book
Newsworthy birthday book by The New York Times is a thoughtful and unexpected gift for such a memorable occasion.
Sure to be a conversation starter, it includes a reprint of The New York Times edition from the day she was born.
Available in 2 cover styles and 7 colors, the cover is personalized with her name and date for a one-of-a-kind gift.
Personalized Vintage Treasures Jewelry Box
Elegant jewelry box celebrates her as one of life's treasures with its beveled glass, detailed filigree and braided trim.
Engrave your own loving 5 line message that she can enjoy reading each day.
Beauty of Friendship Personalized Clock
An 85th birthday is a fabulous time to let her know how much you've cherished her friendship!
Clear Lucite heart-shaped clock will remind her of your friendship every hour of the day.
Create a gift that's specially made just for her by adding your own loving message.
85th Birthday Picture Frames
A personalized picture frame is a wonderful way to showcase treasured memories from her special birthday!
The cute picture frame above can be customized with her age, birth date, name and nicknames and comes in 6 different colors.
85th Birthday Wine Glass
Toast her big day with a fun personalized 85th birthday wine glass!
Fun wine glass is engraved "Aged 85 Years to Perfection".
A gift that's sure to bring laughs – but that she can also enjoy using!
Not a Day Over Fabulous Wine Tumbler – 9 ColorsCHECK PRICE
Personalized 85th Birthday Wine Bottle LabelCHECK PRICE
85th Birthday Wine Gift Basket with Personalized RibbonCHECK PRICE
Personalized Birthday Bottle of Wine – Choice of StylesCHECK PRICE
Perfect Gem Crystal Keepsake
Small but elegant personalized crystal keepsake is a clever way to let her know she's a treasure!
Brilliant diamond-shaped keepsake features sculpted facets which reflect light at every angle.
Personalize with any title, 3-line message and closing sentiment.
85th Birthday Shirts for Women
Choice of Styles
If you're looking for a fun present that's inexpensive, gift her an 85th birthday shirt.
My top pick for fun birthday shirts is Zazzle , which offers over a thousand 85th birthday shirts and sweatshirts for women.
Each of their shirts is available in several different styles and colors. Consider getting a sweatshirt for the 85 year old woman who is cold a lot.
Willow Tree Surrounded by Love Figurine
Send wishes of love to any senior lady with this sweetly sentimental hand-painted Willow Tree figurine.
The enclosed card features the lovely message: "Abundant love surrounds you".
Personalized 85th Birthday Candy Jar
Looking for gift ideas for an 85 year old lady with a sweet tooth? Delight her with this adorable personalized candy jar!
Clever hugs and kisses design can be personalized with your own 2 line message at the bottom.
Rose Gold 85th Birthday Candy StickersCHECK PRICE
Black and Gold 85th Birthday Mini Candy Bar WrappersCHECK PRICE
What to Get an 85 Year Old For Her Birthday
Personalized Gift Ideas for 85 Year Old Woman
Make her big day even more special by giving her 85th birthday gifts for women that are custom-made! Personalization Mall is the best site for personalized gifts for almost any occasion.
They have an fabulous assortment of highly-rated personalized gifts, with prices starting at under $5.
You can add your own message and name to many of their gifts. You can also preview your present before you order it, so you'll know exactly how it will look.
For an 85th birthday or Christmas gift for women, one of the most popular picks is the lovely pillow pictured above. It features up to 21 names repeated throughout the heart shape – you could also add meaningful words rather than names.
Front Page from the Day You Were Born Gifts
A milestone birthday is a perfect time to look back and reflect upon the past.
Highlight her beginnings with a present that features the front page from The New York Times from the day she was born!
The New York Times Store offers a unique assortment of front page newspaper gifts, with prices starting at under $35.
The more popular gift ideas include a full-size reprint that can be hung on the wall (pictured here) and a jigsaw puzzle –both featuring her own birthday front page.
Family Tree Gifts
If she takes pride and joy in her family, then family tree gifts are fabulous gifts for 85 year old women. She can be surrounded by her loved ones, even if they live far away.
Personalization Mall has a delightful selection of family tree presents, including the lovely family tree blanket pictured above that can feature add up to 25 names.
Family Tree Personalized Canvas with up to 20 NamesCHECK PRICE
Metal Family Tree with 10 Hanging Photo FramesCHECK PRICE
Personalized Family Tree Christmas OrnamentCHECK PRICE
Sterling Silver Family Tree NecklaceCHECK PRICE
What Are the Traditional 85th Birthday Gifts for Women?
Some people wonder what the traditional 85th birthday gifts are. There isn't an official list of birthday gifts by year, like you see for wedding anniversaries.
Customary birthday gifts such as candy, flowers and jewelry are perfect choices…the gifts above show you how to tailor those traditional gift ideas for an 85th birthday.
Birthday Cards for 85 Year Old Woman
Send her special 85th birthday greetings to celebrate her milestone birthday!
Here are some popular 85th birthday cards for women that you can buy online:
Personalized 85th Birthday Greeting Card – Pink or TealCHECK PRICE
1935 Back In The Day – 24-page Greeting Card/BookletCHECK PRICE
Personalized Wooden Post Card – 2 ColorsCHECK PRICE
85th Birthday Pop Up Greeting CardCHECK PRICE
Talking Trump Birthday Card in Trump's Real VoiceCHECK PRICE
85th Birthday Greeting Card for WomenCHECK PRICE
Free 85 Reasons We Love You Book
Warm her heart by letting her know how special she is with this lovely DIY 85th birthday gift!
Simply click on the image above to download the free PDF. The booklet will open in a new tab, all ready for you to print.
It's best to print it on on heavy card stock rather than regular printer paper.
Then just fill in the blanks with 85 reasons that she is loved!
Looking for More Gift Ideas for Women? Check Out These Articles: