Gifts for 90 Year Old Woman
Looking for the best gifts for 90 year old woman? Delight Mom, Grandma, or another senior lady with a thoughtful present when she turns 90. Read on to find 25+ awesome gifts that are perfect for any nonagenarian woman!
Birthday Gift Ideas for 90 Year Old Woman
Celebrate this milestone birthday by surprising her with one of these unique presents!
Personalized The Day You Were Born Print
What Was Life Like Back in 1933?
Looking for a great birthday gift for the 90 year old woman who has everything?
Surprise her with this clever personalized "The Day You Were Born" canvas that's full of interesting trivia about what life was like 90 years ago!
Last updated on December 6, 2023 1:17 am

New York Times Front Page Jigsaw Puzzle
Piece history together with this unique jigsaw puzzle that features The New York Times front page from the day she was born.
Fun gift provides an impressive keepsake as well as a fun activity that she can do alone or with friends.
Available in 3 sizes…choose larger pieces if she has a difficult time picking up the smaller ones.
Last updated on December 6, 2023 1:17 am
90th Birthday Pillows
At 90, the birthday gal deserves a chance to sit back and relax! Help her feel much more comfortable with a cute 90th birthday pillow.
Zazzle features over 200 adorable 90th birthday pillows that are wonderful presents for your favorite senior lady. Many can be personalized with her name and a loving message.
The perfect gift idea for a woman who is turning 90 who already has everything!
Story of a Lifetime Memory Book
Any lady who is turning 90 has a lifetime of fabulous memories to share and look back on! This striking book gives her a wonderful way to preserve these treasured memories – both for herself and her loved ones.
She'll enjoy answering close to 500 thought-provoking questions on the gold-tipped pages. It's a meaningful gift that is sure to spark memories from long ago and intriguing conversations.
She can work on this project alone, and answer a question or two whenever she feels like it. She can also have visitors ask the questions and fill out the answers for her – great way to engage in conversation!
Personalized Blanket with Names or Words
Most women seem to always be cold as they get older. Wrap her up in warmth and love with this beautiful personalized blanket, which is available in 5 lovely colors.
You can add up to 21 names (or words that are meaningful) which are in a heart fashion on this cozy fleece blanket. It's the perfect size and weight for snuggling under while watching TV, reading or napping.
You can also get this lovely Close to Her heart design on 40 other gifts, including a Christmas ornament, flower pot, mug and more. Click here to see the complete selection.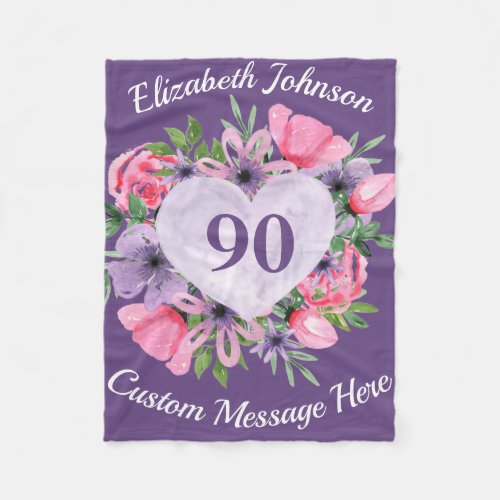 Floral Purple 90th Birthday Blanket for WomenCHECK PRICE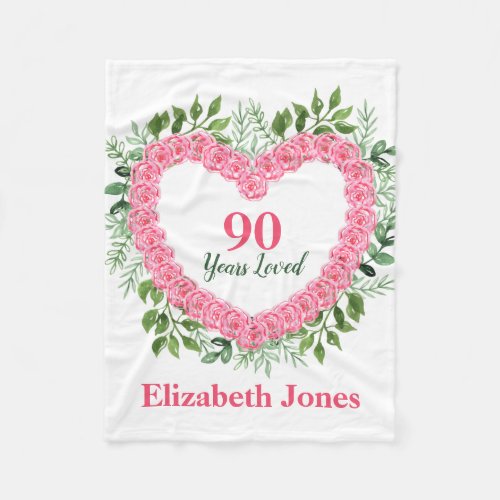 90 Years Loved Personalized BlanketCHECK PRICE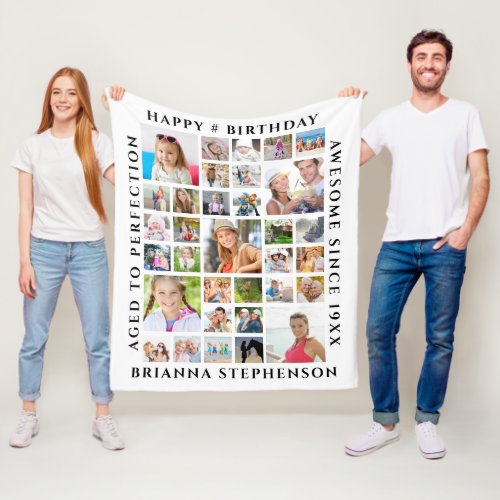 33 Photo Collage Personalized Birthday BlanketCHECK PRICE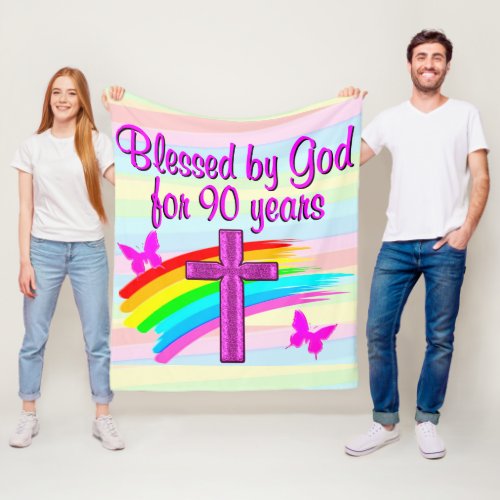 Blessed by God for 90 Years BlanketCHECK PRICE
Digital Photo Frame
Easy Way to Stay in Touch with Friends & Family
Simple-to-use digital photo frame makes it so easy to keep up with family and friends!!
You can set this best-selling wifi photo frame up in just a few minutes – you can even set it up and monitor it remotely! Your favorite senior lady doesn't have to do anything to maintain the frame.
Family and friends can send photos via social media accounts (such as Facebook or Instagram) from anywhere in the world or by email.
She'll love getting pictures from their loved ones! Great gift for 90 year old woman in a nursing home.
Personalized Heart Shaped Family Photo Collage Canvas with 100 PicturesCHECK PRICE
Digital Clock/Calendar with up to 3 Alarms for Medicine RemindersCHECK PRICE
Favorite Things Personalized Photo Blanket or Canvas – Choice of ColorsCHECK PRICE
Amplified Speakerphone with Photo Buttons – Hearing Aid CompatibleCHECK PRICE
90th Birthday Jewelry
Nine Rings for Nine Decades Necklace
Surprise the fashionable lady with this beautiful symbolic 90th birthday gift!
Striking necklace features 9 sterling silver intertwined rings…1 ring for every decade of life. The circle is never ending, which represents forever.
A stylish and classy way to represent "90" in jewelry form!
Last updated on December 6, 2023 1:17 am
90th Birthday Flowers
Flowers are always a thoughtful birthday gift for any woman! If you need an 90th birthday gift to arrive today, check out the great birthday flower selection at FTD.
If you have a little bit of time to plan ahead, however, it's nice to honor this special birthday with a more unique floral gift. Here are a few extra-creative 90th birthday flower gifts.
Real Rose Accented with 24k Gold
Make her 90th birthday extra-special with a stunning real rose that's dipped in 24k gold. It will be a wonderful memory of her special day!
This elegant gift comes complete with an acrylic stand, and is available in red, blue, pink or purple.
Willow Tree Beautiful Wishes Hand Painted FigurineCHECK PRICE
24K Gold Dipped Real Rose with Gold Gift BoxCHECK PRICE
Waterford Crystal Glass Rose – Red or PinkCHECK PRICE
Lovepop Flower Basket Pop Up 3d CardCHECK PRICE
90th Birthday Flower Vase
If you're shopping for 90th birthday gifts for grandma, mom or another special lady, she'll be thrilled with this lovely personalized flower vase on her big day! You can write your own birthday message, or choose from pre-written verses.
Just add her favorite flowers to create a gift she'll treasure!
90th Birthday Gift Baskets
A birthday gift basket is a huge hit with anyone, no matter how old they are! It's a fabulous choice for the woman who is living in a nursing home, since they can enjoy the treats themselves as well as share with others.
GiftTree is my top pick for 90th birthday gift baskets. They feature over 200 highly-rated gift baskets that range in price from under $30 to well over $1000, so you can find the perfect basket no matter what your budget is.
If you really want to impress the birthday woman, add a personalized ribbon with your own Happy 90th Birthday message to the gift basket.
They offer same-day and next-day delivery on many of their birthday gift baskets – great last minute gift ideas!
Happy Birthday Ice Cream Gift BasketCHECK PRICE
Chocolate Covered Birthday Oreos Gift SetCHECK PRICE
Happy 90th Birthday Childhood Candy Gift BasketCHECK PRICE
Harry & David Chocolate Covered StrawberriesCHECK PRICE
The New York Times Custom Birthday Book
Every Birthday Front Page from All 90 Years
Take her on a stroll down memory lane with The Custom Birthday Book by The New York Times.
Unique personalized book features every single New York Times birthday front page from all 90 years that she's been alive!
90 years of historical events are all wrapped up in this impressive personalized book (available in 6 colors). It's the perfect 90th birthday gift for a woman who has everything!
Enjoy Free Shipping on up to two Custom Birthday Books or Ultimate Birthday Books at The New York Times Store. Expires 12/31/23.
Use Code: BDAYBOOKSHIP
90th Birthday Candy Gifts for Women
Personalized 90th Birthday Candy Jar
Shopping for the senior lady with a sweet tooth? Treat her to this festive personalized candy jar!
Add her favorite candy to create a cute birthday gift that's perfect for sharing. You can opt to have Lifesaver candies included with the gift.
Miniature chocolate bars or Hershey's Kisses are also wonderful fillers. For a special treat, wrap the candies in 90th birthday candy wrappers.
90th Birthday Chocolate Covered OreosCHECK PRICE
Personalized 90th Birthday Candy TinCHECK PRICE
90 & Fabulous Candy Jar for WomenCHECK PRICE
90th Birthday Candy Bar Wrapper – Print YourselfCHECK PRICE
Inexpensive 90th Birthday Gifts for Her
Gifts Under $25 That Don't Look Cheap
90th Birthday Shirts
Shopping for a fun 90th birthday gift for the woman who has everything? Deck her out in a cute 90th birthday t-shirt or sweatshirt!
Zazzle has the best selection of 90th birthday shirts for women. Most of the designs are available in different colors and styles, including sweatshirts (great if the recipient is usually cold).
90th Birthday Coffee Mugs
Funny coffee mug is a cute little gift for any woman's 90th birthday celebration!
It's a great little present all by itself, or you can fill it with a small flower arrangment to make a colorful bouquet. Or add a little bag of coffee or tea and some candy and cookies to make a small gift basket.
Personalized Floral 90th Birthday Coffee MugCHECK PRICE
Personalized The Day You Were Born Coffee MugCHECK PRICE
Funny 90th Birthday Coffee Mug – Free ShippingCHECK PRICE
Congratulations on Your 90th Birthday Mug with PoemCHECK PRICE
90th Birthday Wine Gifts
Personalized Wine Bottle Label
Is the birthday woman a wine-lover? Then delight her with a personalized bottle of wine!
Add your own text to this colorful wine bottle label. Then just peel and stick the label on a special bottle of wine to create a festive gift she'll love!
Wine Gift Baskets – Choice of StylesCHECK PRICE
Aged 90 Years to Perfection Wine GlassCHECK PRICE
Champagne Gift Baskets – Choice of StylesCHECK PRICE
Not a Day Over Fabulous – Funny Wine TumblerCHECK PRICE
Christmas Gift Ideas for 90 Year Old Woman
Wondering what to get a 90 year old woman for Christmas? She'll love one of these fabulous presents!
Personalized Pillow
One of the most popular gifts for 90 year old woman in a nursing home is the adorable pillow pictured above.
It features up to 21 loved one's names repeated in a heart shaped design – a wonderful way to surround her with her loved ones!
Both useful and sentimental at the same time, the pillow is available in 3 styles and 5 colors. The lumbar pillow is an especially thoughtful choice for someone in a wheelchair, as it will provide a little support for her back.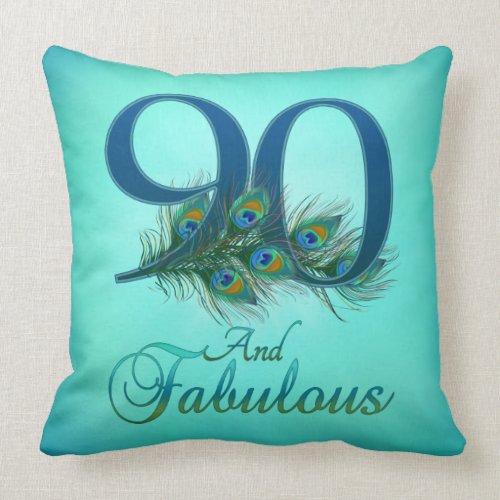 90th & Fabulous Pillow – Choice of StylesCHECK PRICE
Personalized Pillow – Choice of 5 ColorsCHECK PRICE
The Book Seat Pillow – Book Holder/Travel Pillow – 7 ColorsCHECK PRICE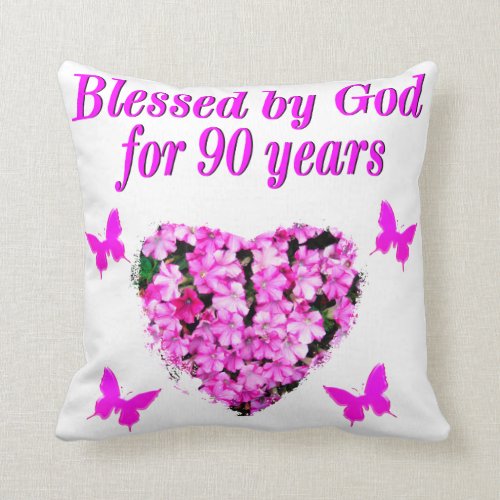 Blessed by God for 90 Years Floral PillowCHECK PRICE
Timex Easy Reader Watch – Silver, Gold or Two-Toned
It can be hard to read the numbers on regular watches as you grow older, so a watch with easy to read numbers is a thoughtful gift for anyone turning 90.
Stylish Timex watch pictured above features a backlight to make it easy to read even at night.
A practical gift that she can enjoy using every day!
Window Bird Feeder with Removable TrayCHECK PRICE
Big Button TV Remote for ElderlyCHECK PRICE
3X Large Ultra Bright LED Page MagnifierCHECK PRICE
Echo Show 5 — with Alexa and Video CallingCHECK PRICE
Christmas Gift Baskets
Most people love to get gift baskets full of delightful treats! You can choose from food and wine gift baskets or spa gift baskets.
When buying Christmas gift baskets for 90 year olds, consider whether they have dentures or crowns that might make chewing nuts, sticky foods, and popcorn difficult. Try to pick a gift basket that avoids these foods (although they can always share those harder-to-eat foods with friends and family)!
The cookie gift tower featured above is a great choice, as most seniors won't have any problem chewing cookies! Plus they can take their time opening each box in the tower, which stretches the holiday joy out over a few days.
Christmas Decorations/Ornaments
At 90, she might not have the energy to fully deck out a full sized Christmas tree. Colorful Christmas decorations that are easy to put out are a wonderful Christmas gift that will help her enjoy the festive season.
If she's in a nursing home, be sure to look for smaller decorations since she might not have a lot of room to display Christmas decorations.
A colorful wreath is a delightful Christmas gift for any woman – even the 90 year old in a nursing home can easily hang it on the wall or door.
The cheerful wreath pictured above features fairly neutral colors, so she can keep it up past Christmas.
Personalized Heart Shaped Christmas Ornament with up to 21 NamesCHECK PRICE
Thomas Kinkade Santa Claus Is Comin' To Town Musical SnowglobeCHECK PRICE
LED Flameless Christmas Nativity Scene Candles – Set of ThreeCHECK PRICE
Thomas Kinkade Musical Snowglobe with Village and Moving TrainCHECK PRICE
Inexpensive Christmas Gifts for 90 Year Old Female
If you're on a tight budget, no need to worry! Give her one of these brilliant Christmas gifts that are under $25 (but don't look cheap).
Brighten her days with this affordable box of blessings! Beautiful box comes filled with 51 cards that feature inspirational or loving sentiments on each side.
Personalized LED Light Shadow Box with up to 21 Names – Choice of 5 ColorsCHECK PRICE
Colorful Water Resistant Walker Bag with Multiple Pockets – Choice of ColorsCHECK PRICE
Butterfly Shaped Sun Catcher with Real Pressed Flowers and Heart CharmCHECK PRICE
Tea Forte Handcrafted Pyramid Tea Infusers Gift Set of 10CHECK PRICE
See More Great Gift Ideas for 90 Year Olds: