Graduation Gifts for Doctors
Know someone graduating from medical school this year? Want to give them a gift that they'll appreciate? These graduation gifts for doctors are great for anyone who will be starting the next phase of their career, from residency to research. No matter your budget or their interests, we have gift ideas for you!
Nespresso Machine
Residency is notorious for long, hard hours so why not help them stay awake? This Nespresso machine makes an excellent gift for any doctor!
Within minutes, they'll have a high-quality cup of coffee not unlike one that they might find in a coffee shop.
The set includes a milk frother, for creamy milk that will elevate their coffee to the next level. This is a gift that they'll truly appreciate!
Personalized Pen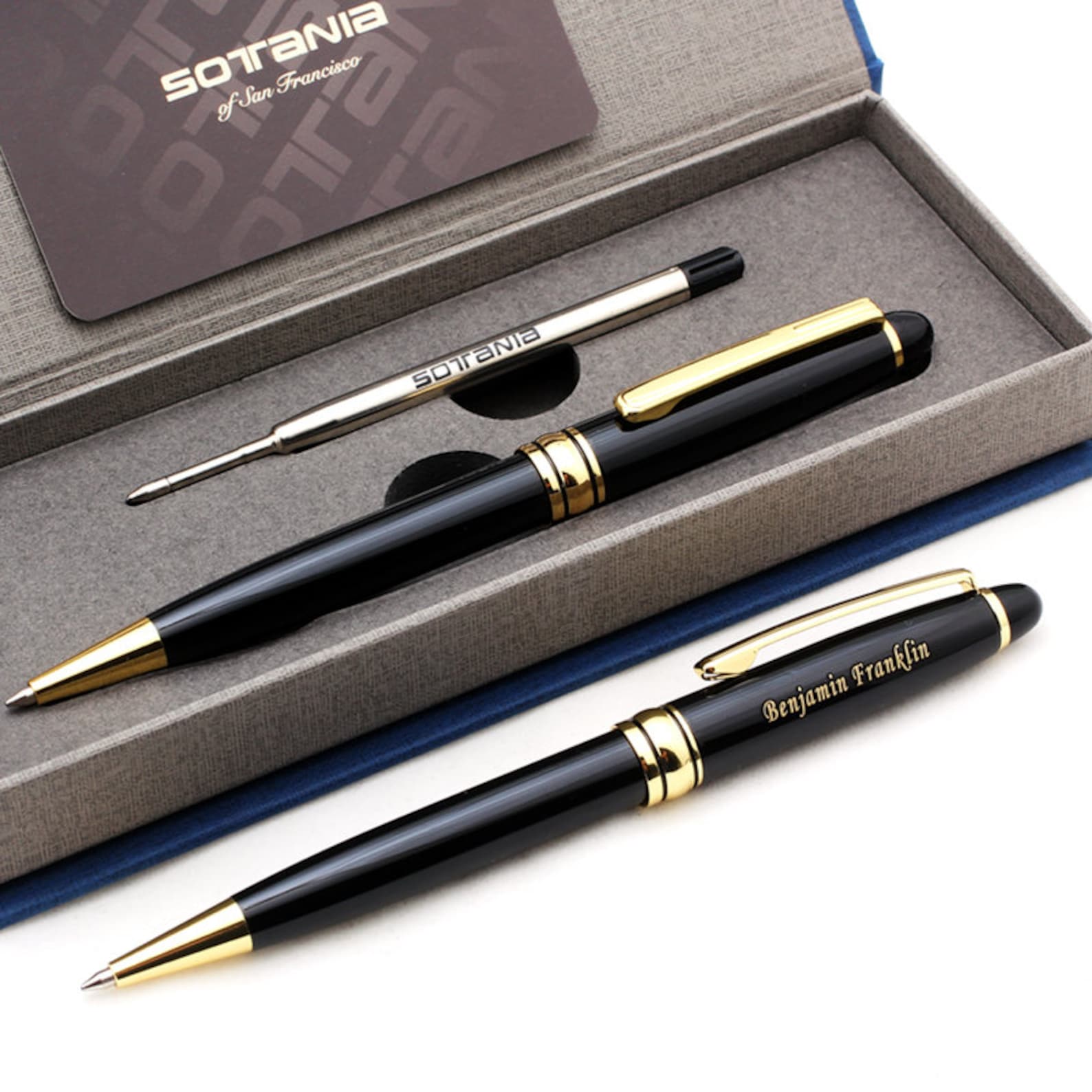 This personalized gift is one that they'll be able to use daily!
These brass, engraved ballpoint pens are perfect for writing prescriptions or making notes.
It writes smoothly and comes in a box for an elegant gift that is both practical and thoughtful.
Scrub Jacket
Hospitals and labs can be cold! Help them stay warm with a nice scrub jacket.
With several different colors available, you can find one that they'll like the best. Ranging in size from 2XS to 5XL, there's a jacket for everyone!
Searching for a man? There's a men's version available, as well!
Stethoscope Jewelry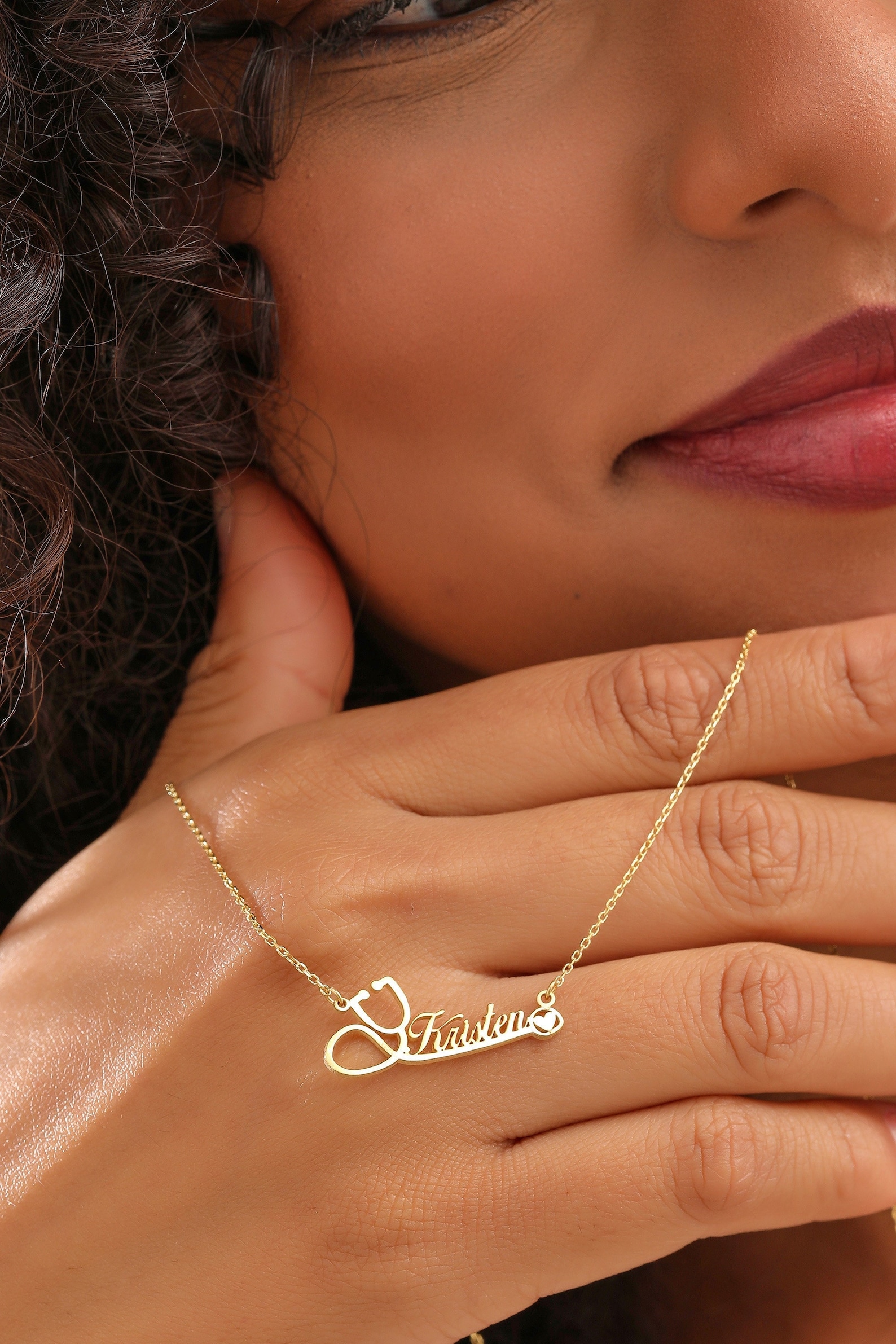 Celebrate her graduation with this personalized stethoscope necklace!
Available in different colors and lengths, this personalized necklace is a sweet way to show how proud you are of her.
It features her name, a stethoscope, and a small heart on a chain. This is a meaningful gift that she'll love!
Bath Bombs
There's nothing like a nice bath after a long shift!
This set of bath bombs has 12 beautiful bath bombs that will make her bath just a bit better.
Handcrafted, they're formulated to moisturize skin.
Congratulations Plaque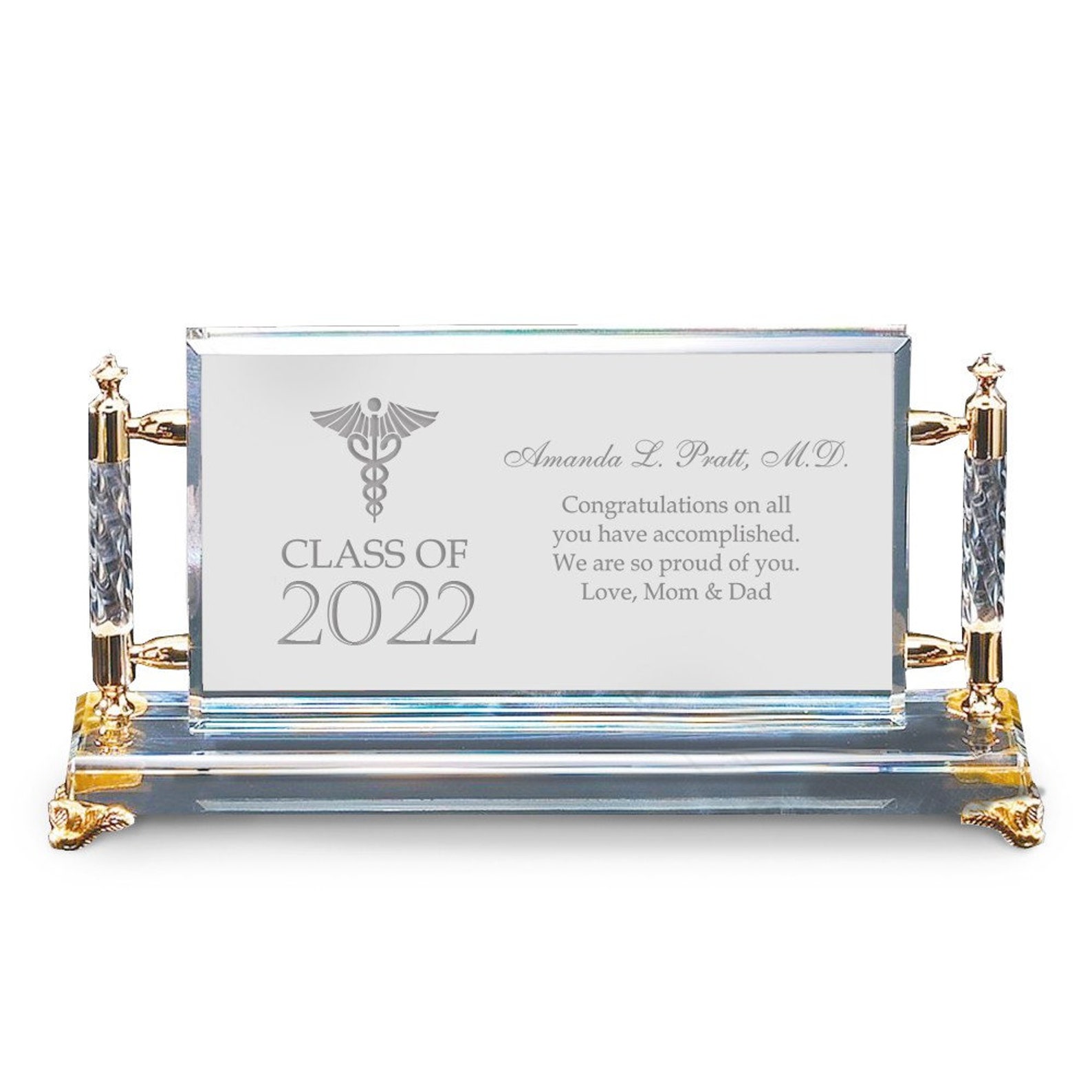 Want a gift that shows how proud you are of them? This personalized crystal graduation plaque is perfect!
Made of optic crystal with gold accents, this plaque can be personalized with a message of your choice.
This is a gift that they can place in their office or on their desk!
Massage Gun
A massage gun will help ease their muscles after long days on their feet!
This cordless massage gun comes with 15 replaceable massage heads and has seven different speeds.
This is a practical gift for any medical school graduate!
Wine Stopper
These funny wine stoppers are a great gift for any med school grad who loves wine!
This set of five rubber wine stoppers includes funny sayings like "Wine me up," "Wine not?" and more! They're reusable and washable, so they can use them for a long time to come.
This gift is both affordable and fun!
Related: Gifts for Beer Lovers
Coffee Mug
Nearly all doctors need coffee to make it through the day, so give your favorite newly graduated a fun coffee mug!
This funny one reads "Look at you becoming a doctor and sh*t" followed by a thumbs-up icon.
The unique design is both funny and shows how proud you are of them!
Lab Coat Wine Holder
This is the best way to give a bottle of wine as a gift!
Wrap their favorite bottle of wine in this clever lab coat wine holder! These mini lab coats are perfectly sized to put on a bottle of wine. In the pockets, there are mini syringes and capsules for added detail.
This fun gift is a great way to celebrate!
Meal Kit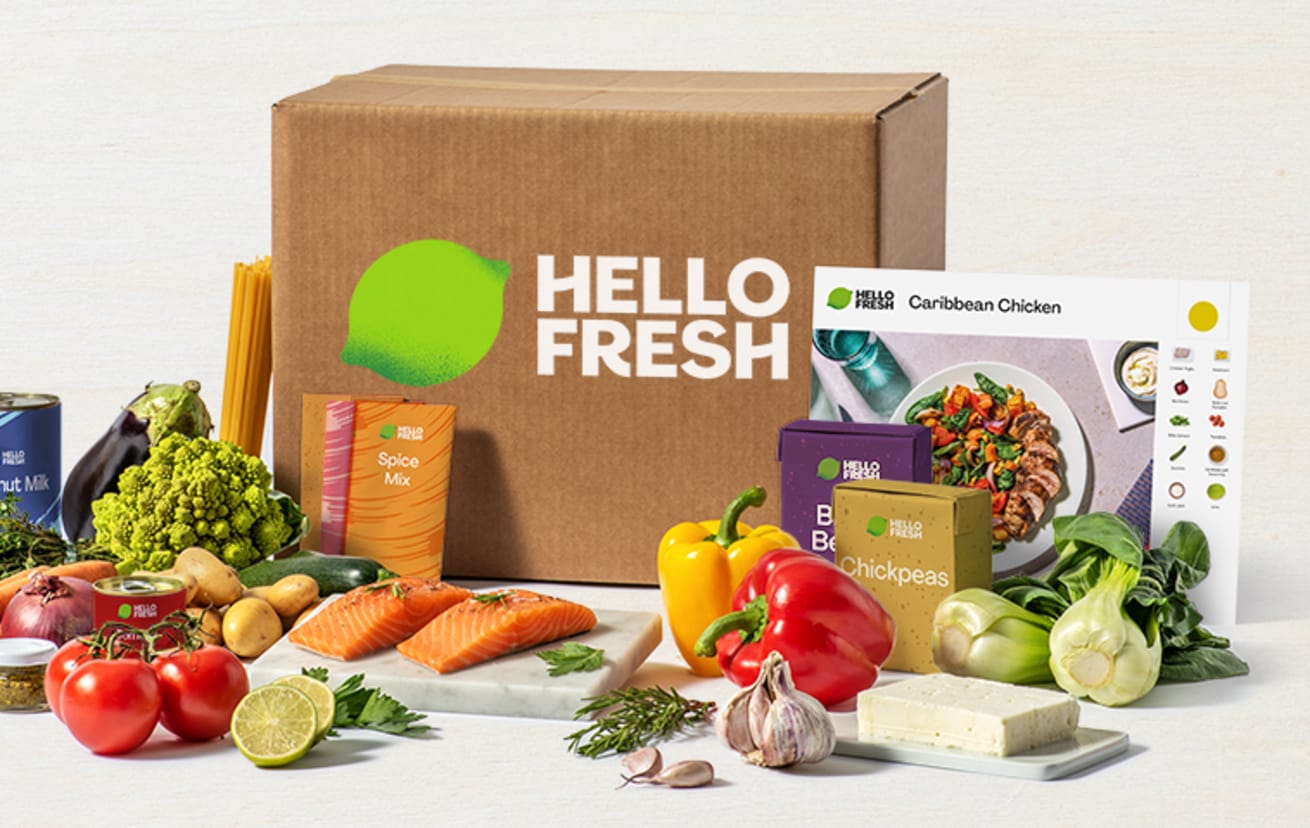 Everyone knows that doctors are insanely busy, so give them a gift that will make their life a bit easier.
A Hello Fresh meal kit allows them to make delicious and nutritious meals without going to the grocery store. Instead, it's all delivered by mail.
Pick from options like Quick and Easy or Pescatarian to find the meals that will best fit their lifestyle. This gift is a life changer!
Water Bottle
A nice Hydroflask water bottle will help them stay hydrated on long shifts!
Known for their ability to keep water icy cold, Hydroflasks come in a variety of colors and sizes.
This thoughtful gift will be appreciated at both work and fun!
Blackout Curtains
If they'll be working the night shift, then these blackout curtains will be a lifesaver!
These curtains do an excellent job of making a room darker and therefore easier to sleep in during the day. They are available in many sizes and colors, so you can pick one that will fit their style.
This is the type of practical gift that they'll appreciate!
Apple Watch
An Apple watch is a versatile gift that is perfect for any graduating doctor!
With the ability to be an activity tracker, a timekeeper, a heart monitor and so much more, the Apple watch is perfect for any busy doctor.
It comes in a variety of colors and can be further customized with a different watch band. This is a graduation gift they won't forget.
Hand Cream
As a doctor, they'll be washing their hands very frequently, so they'll appreciate this hand cream set!
This affordable Burt's Bees gift set includes two different hand creams, a cuticle cream, a hand salve, and more.
Related: College Graduation Gifts for Her
Sparkling Wine Gift Basket
If you can't make the graduation celebration in person, then a wine gift basket is a great gift!
Hickory Farm's Grand Sparkling Wine gift basket includes two different sparkling wines, a selection of cheese and meats, and more!
They'll enjoy and appreciate this thoughtful gift!
Heating Pad
With a nice heating pad, they'll be able to relax after a long day on their feet!
This extra large heading pad has six different settings and is great for neck and back pain. It's machine washable and easy to clean.
It's soft, comfortable and makes a great gift for any medical school graduate!
Leather Work Bag
Give them a gift that will make them feel like the professional they are!
A leather work bag is a perfect gift for any graduate. There are so many styles to pick from, so you can find one that they'll like.
This is both a practical gift and a meaningful one!
Related: Star Wars Gifts for Men
iRobot Roomba
Busy doctors need gifts that will make their lives easier!
An iRobot Roomba will help them keep their place clean by allowing them to vacuum with nothing more than a touch of a button. They can keep their feet up and relax while the Roomba vacuums.
They can also use the app to start the Roomba while they're at work or away from home. This is a great gift that they'll truly appreciate!
Spafinder Gift Card
There's nothing like a spa day to relax!
A Spafinder gift card allows them to choose a spa near them and spend a day being pampered and relaxing. On Spafinder.com, they can find special deals on treatments.
With electronic gift cards available, this is an excellent gift if you can't make the celebrations in person!
Related: Graduation Gifts for Teachers