Halloween Costumes for Big Guys
Funny Costumes
1. Kool-Aid Man
This simple and creative costume is super easy! While you can make it by just drawing on a red t-shirt, it's also available to purchase online.
2. Avocado
If you're looking for a creative and impressive costume, this avocado costume is a great way to go. Use your stomach as the pit and create a simple avocado outline by cutting out and painting cardboard or poster board. Or, if you want something even easier, you can buy an avocado costume on Amazon.
3. Alan from The Hangover
This is an iconic and easy costume. You can either find a beard (or grow one), a baby carrier, and sunglasses, or you can buy a set from Amazon. Finish it off with the iconic t-shirt and you have an easy and funny costume!
Related: Best Beard Halloween Costumes
4. Gorilla
This classic costume is always a winner. There are a variety of gorilla costumes to pick from, from scary to funny. It's a great, versatile costume that will last a long time!
Easy Costumes and Last-Minute Costumes
5. Fifty Shades of Gray
To create this super simple, but hilarious, costume, all you need is a bunch of gray paint chips. You can pick these up from stores like Home Depot or Lowes. Then, simply attach them to a t-shirt and viola! A funny and simple t-shirt that is sure to get people talking.
6. Smartie Pants
For this incredibly easy costume, all you need is a bag of candy Smarties and glasses. Tape the Smarties onto pants of your choice and now you're a smarty pants! It's a funny and incredibly cheap and easy costume.
7. Leaf Blower
Another easy and punny costume, this leaf blower costume requires stuff you probably already have at home – a leaf, some string, and a hat. Simply attach the leaf to the string and attach that string to the hat so that the leaf is approximately in front of your mouth. Then, blow! Bam! You're a Leaf Blower.
8. Cereal Killer
If you have a box of cereal and a knife, you have everything that's needed to be a Cereal Killer this Halloween! All you have to do is stab the box of cereal with a knife (you may want a plastic knife for safety reasons) and tape it onto a shirt of your choosing (I think black looks best if you're going for a scary look). You may also want to add some red paint to the cereal box so it looks like it's bloody. It's an easy costume that you can make last minute!
Related: 6 Spook-tacular Halloween Juice Boxes (Includes Free Printables)
Character Costumes
9. Woody from Toy Story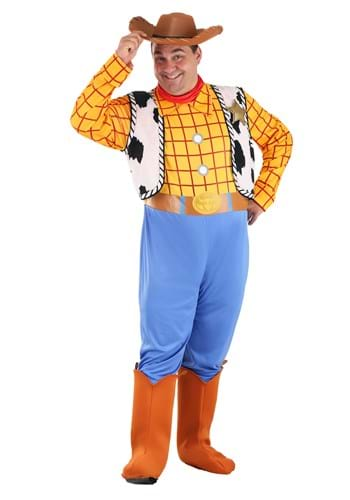 This Halloween, why not be this famous toy cowboy? Woody from Toy Story is a great costume that's available in a variety of sizes. The costume comes with the jumpsuit, handkerchief and hat, so it's as complete costume that you can just put on and go.
It's also a great group costume, as other members can go as Jessie, Buzz Lightyear, Slinky Dog and the whole gang!
10. Shrek
If you're searching for a fun character to dress up as this Hallowen, consider Shrek! He's a fun costume that everyone will recognize. His outfit is available in multiple sizes, so you can find one that fits you. Then, just add green body paint and the iconic Shrek ears and you're good to go!
If you're looking for a couples costume this Halloween, you can consider having your partner dress up as Fiona for a fun couples costume that's family-friendly.
11. Arthur
This famous TV aardvark is also an easy Halloween costume! All that's needed is a long sleeve yellow shirt and black glasses. For a more detailed look, layer a white collared shirt under the yellow shirt and add a pair of ears. It's an easily recognizable costume that kids and adults will love!
Related: 15 Halloween Costumes for Bald Guys
12. Hagrid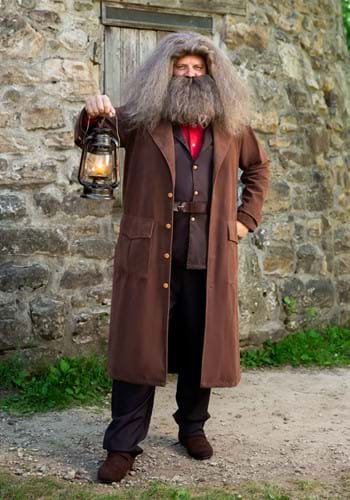 This iconic Harry Potter character is a great Halloween costume for big guys! This Hagrid costume is available in a variety of sizes. If you're looking for a ready-made costume that will last you for years, this might be for you.
13. Bowser
Bowser, from the Super Mario series, is a fun costume for any video game fan. This set includes all the accessories, making it an easy costume that's ready to go as soon as it arrives.
14. Cat in the Hat
This classic literary character makes for a great costume! This Cat in the Hat costume is available in a variety of sizes so it can work for you. If you want to make a group costume, consider getting Thing One and Thing Two costumes to go along with your Cat in the Hat costume. Add some Dr. Seuss books for a complete look and you'll have a great, festive Halloween costume!
Related: Healthy Super-Easy Halloween Lunchbox Treats for Kids
15. Genie
You have two options if you want to be Genie from Disney's Aladdin! You can either buy a costume or you can make your own. To make your own, simply get a pair of blue pants, a blue shirt, some gold tape, a gold lamp, and some blue body paint.
Genie is also a great costume if you're looking for a group costume. You can add Jasmine, Aladdin, the Magic Carpet, and even Abu – a clever costume for a baby or a dog!
16. Mr. Potato Head
Searching for an easy costume that can be slipped on over your normal clothes? Mr. Potato Head is perfect for you! This officially licensed costume is large enough for some breathing room and is designed to be worn over regular clothes, so there's no awkward changing. It's lightweight and flexible, so it's perfect if you'll be on the go this Halloween.
DIY Costumes
17. Farmer
You may already have everything you need to be a Farmer this Halloween! If not, all it takes to transform into a farmer is a flannel shirt, overalls, and a hat. All these items are versatile and can be used outside of Halloween, too. This simple costume won't take long to put together, so it's a great last-minute costume.
18. Ted Lasso
Be one of this year's hottest characters with this easy DIY Ted Lasso costume! All you need is a track jacket, a whistle, and a white visor. Add in some athletic shoes and you're good to go! Easy, comfortable, and creative costume!
19. Where's Waldo?
This classic costume is easy and cheap! All you need to be Waldo from Where's Waldo this Halloween is a striped shirt, a red and white beanie, and black glasses. You'll be blending into crowds in no time!
Related: Fun and Easy Halloween Decorations
20. Dwight Schrute
If you're a fan of The Office, Dwight Schrute can be an easy Halloween costume! With nothing more than a yellow shirt, glasses, and a tie, you can transform into everyone's favorite assistant to the manager. If you want to add to the costume, include Dwight's calculator watch. Practice your best glare and you're sure to be a hit!
21. Lumber Jack
This Halloween, consider being a Lumber Jack! Just wear your favorite pair of jeans, a flannel shirt, suspenders, and carry an ax (we recommend a costume one for safety!). It's an easy, classic costume that's great for big guys!
Scary Costumes
22. Grim Reaper
Want to be something truly scary this Halloween? Consider being the Grim Reaper. It's a classic costume that's affordable and scary. This one includes the robes and the mask, so it's a complete costume that you can easily slip on over your clothes for a quick change.
23. Nightmare Clown Costume
Many people fear clowns, which is why this Nightmare Clown costume is especially scary! Reviews mention that it's great for tall or big guys. It includes the mask and the outfit, so you can quickly put it on and be ready to go. Or, to make it even scarier, consider including an accessory like a costume knife or ax.
24. Sinister Scarecrow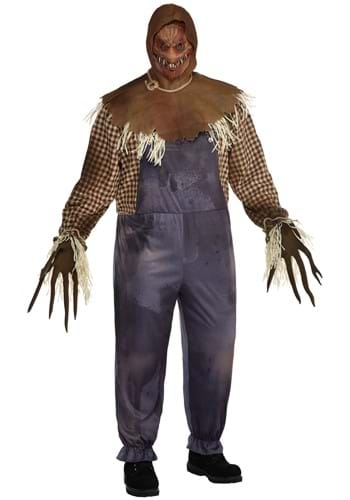 This terrifying costume is great for any big guy! The Sinister Scarecrow is truly a creepy costume. It's a one-piece costume that zips up in the back, so there aren't a lot of items to keep track of. It's scary with just the outfit, but there are a variety of accessories that you can buy to bring it up a notch.
25. Plague Doctor Costume
For centuries, plague doctors have been scaring people, both young and old. This Plague Doctor costume allows you to continue the tradition! It's a six-piece set that's available in a variety of sizes, so you are sure to find one that works for you. It includes the outfit, mask, hat, and more, so you don't have to search for accessories. This is a haunting Halloween outfit that's sure to scare people!
Related: