Know a Star Wars fan who deserves a great gift? Our list of Star Wars Gifts for Men will help you find the perfect gift! No matter the occasion, from Christmas to birthdays or just to say you care, these gifts are a unique way to show you care!
1. Star Wars Tie
Searching for a Star Wars gift that he can actually use? This Darth Vader tie makes a perfect gift! With a subtle Darth Vader pattern, this red and black striped tie can be worn in business meetings or at formal events without attracting attention.
Not sure that he wants to represent the dark side? There are other options available, including Baby Yoda!
2. Death Star Waffle Maker
Give him a gift that he can use to step up his breakfast with a Death Star Waffle Maker! This waffle maker creates large waffles in the shape of the Death Star. It includes an indicator light, so there are no worries about overcooking. This is a delicious gift!
3. Star Wars Lego
Star Wars Legos frequently make the list of must-have gifts and for good reason! These Lego sets are fun for both children and adults and the end result is perfect for displaying on shelves or playing with. They range in price, so you can find one that works for your budget.
4. BB-8 Instapot
This fun twist on the Instapot is a wonderful gift for any Star Wars fan! The BB-8 Instapot allows him to quickly cook his food and operates the same as any other Instapot. The only difference is the fun BB-8 exterior. There are other Star Wars themed options, available, too, so you can find one that he'll love. It's a great practical gift!
5. Star Wars Coffee Mug
This is an affordable gift that's great for any Star Wars fan who also enjoys coffee or tea! While there are so many to pick from, I love this funny Star Wars May the Froth Be With You mug. Made to look like the Starbucks logo, it features a Storm Trooper in place of the mermaid.
6. Star Wars: Galaxy's Edge: The Official Black Spire Outpost Cookbook
Experience the taste of the Star Wars universe with the Star Wars: Galaxy's Edge: The Official Black Spire Outpost Cookbook. With recipes like Spicy Mandalorian Stew and Nerf Kebabs, he can feel like he's living in the galaxies of Star Wars. It's a great gift for anyone who likes to cook and loves Star Wars!
Related: Gifts for Marvel Fans
7. Red Squadron Starfighter Corps T-Shirt
Allow him to show his love of Star Wars with a fun t-shirt! While there are literally thousands of options to pick from, this Red Squadron Starfighter Corps t-shirt is a favorite of mine. Available in a variety of sizes and colors, it's a great gift for any guy.
8. Wood Star Wars Kitchen Utensils
This five-piece set of wooden Star Wars kitchen utensils is a great gift for any Star Wars fan who also likes to spend time in the kitchen! With burned patterns of Stars Wars characters including Princess Leia and Chewbacca, these heat-resistant kitchen utensils are both practical and fun.
9. Star Wars Pinball Machine
Searching for a gift that will blow his mind? Consider giving him a Star Wars Pinball Machine! Adorn with pictures of Star Wars characters, this electronic pin ball game provides hours of entertainment. This is an incredible gift that will be the crowning piece of any game room or man cave.
10. Millenium Falcon Cufflinks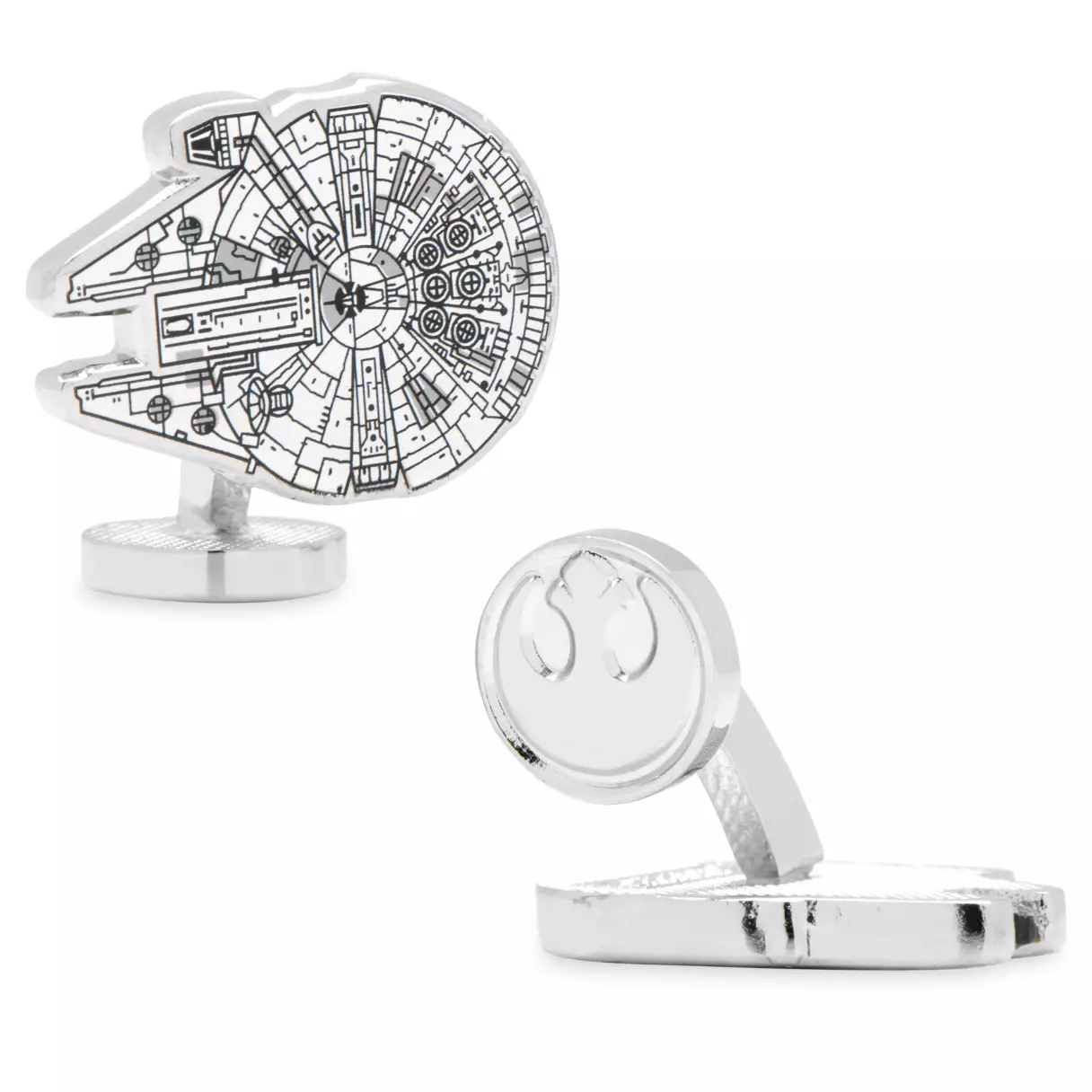 These Millennium Falcon Cufflinks are a fun gift he'll be able to use! Each cufflink features a blueprint of the Millennium Falcon and the backing has the Alliance Starbird symbol. He'll feel great dressing up with these!
11. Star Wars Monopoly Board Game
This is a fun twist on a classic! The Star Wars Monopoly Board Game combines the classic Monopoly game with Star Wars. It ties in all nine movies and replaces the classic properties with droids and planets. He'll love playing this with other Star Wars fans!
12. Tie Fighter Lamp
This Tie Fighter Lamp is the perfect desk lamp for any Star Wars fan! It's powered by USB and is adjustable. It's a unique gift that any Star Wars fan would be happy to have.
Related: Gifts for Step Dads
13. Popcorn Maker
Make delicious popcorn with this Death Star Popcorn Maker! There's no oil required to make delicious air-popped popcorn and it takes no longer than the microwave. It's shaped like the Death Star so it's great to make some popcorn before his next Star Wars marathon!
14. X-Wing Drone
Give him the opportunity to fly his own X-Wing with this X-Wing Drone! It has three-speed settings and can reach speeds of up to 35 mph. He'll truly feel like a pilot with this fun gift!
15. Golf Balls
These adorable R2D2, BB-8, and Death Star golf balls make a great gift for any Star Wars fan who also likes to golf! The set also includes 20 printed tees that say "May the course be with you." He'll love hitting the golf course with these fun golf balls!
16. C-3PO Watch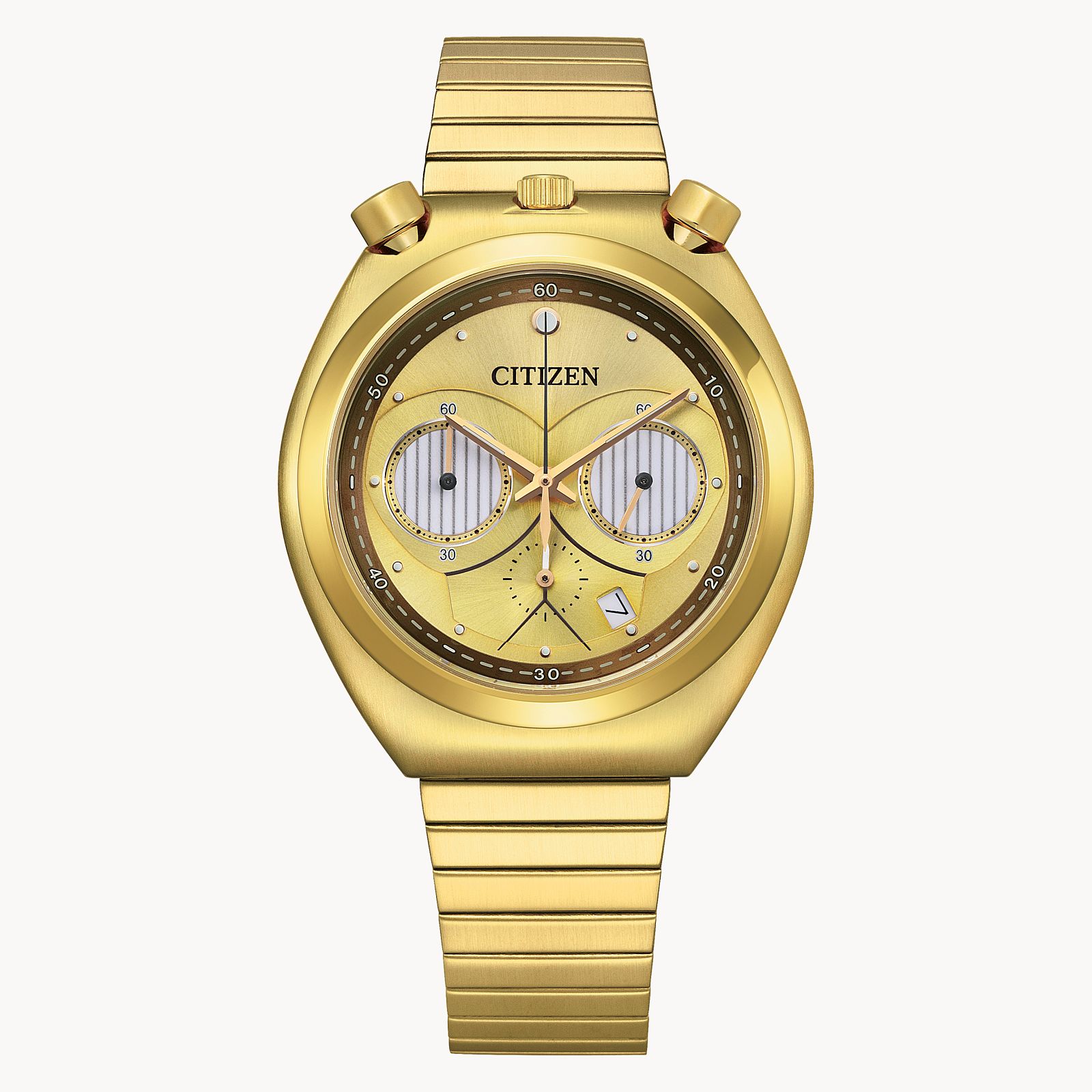 Searching for a classy gift? Consider this gold C-3PO Citizen Gold Watch. Featuring C3PO on the watch face, it has a gold-toned stainless steel band and the Star Wars logo etched on the back. The Citizen and Star Wars collection has a variety of other options, available, as well, so you can find the perfect watch for him.
17. Bluetooth Speaker
A Baby Yoda Bluetooth speaker makes a great, affordable gift for any Star Wars fan! Lightweight and small, this speaker can play up to 4 hours of music or audio on a single charge and has a 30 feet wireless radius. Other characters are available, too. This is a fun and useful gift!
Related: Gifts for Harry Potter Fans
18. Star Wars Socks
Searching for a fun, cheap gift or stocking stuffer for a Star Wars fan? This two-pack of Star Wars socks is perfect! Featuring Darth Vader on one and Stormtrooper on the other, these argyle crew socks are great for both formal and casual wear.
19. Lightsaber Chopsticks
For an affordable gift that's unique and clever, give him these lightsaber chopsticks! Available in a variety of different colors, this is the perfect gift for anyone who wants to step up their ramen game. This fun, unique gift will make him smile!
Related: Graduation Gifts for Guys
20. Star Wars Pajamas
Comfy, cozy, and great for getting a good night's rest, these Star Wars pajamas make a wonderful gift! They're available in different styles – including a holiday set – and sizes, so you can find the one that he'll appreciate the most.
Related: