Are you wondering what do you give for a 95th birthday? It's hard to come up with fun and creative 95th birthday gift ideas. Thrill your favorite senior man or woman with one of these unique presents!
Best 95th Birthday Gifts
If you're in a hurry, you can't go wrong with one of these top-rated gift ideas!

The Day You Were Born Jigsaw Puzzle
Shopping for a clever gift that they can enjoy with their family and friends? Everyone will have a blast piecing together the pages of time with this unique jigsaw puzzle that features The New York Times front page from their birthdate.
Distinctive puzzle is available in 3 sizes. If they have difficulties picking up smaller objects, consider getting the 300 piece puzzle with larger pieces.
An enjoyable way to celebrate an 95th birthday!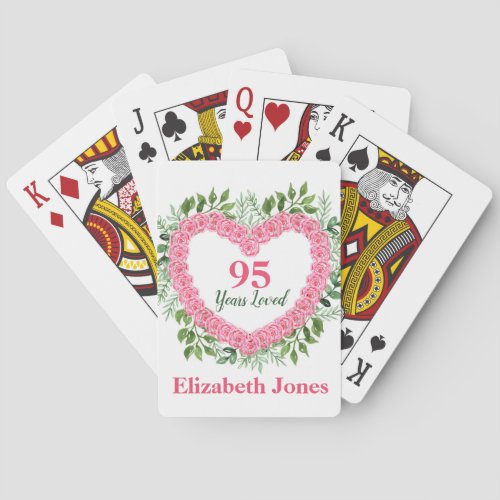 95 Years Loved Personalized Playing CardsCHECK PRICE
New York Times Front Page from the Day You Were Born ReprintCHECK PRICE
Personalized The Day You Were Born Canvas
A milestone birthday is a fabulous time for looking back at how much life has changed over the years – and this thoughtful gift is a clever idea!
Striking chalkboard-styled canvas is personalized with the birthday recipient's name and birth date. It also highlights interesting facts about what life was like on the day he or she was born.
This is a great gift idea for an 95 year old man or woman who has EVERYTHING!
Last updated on September 24, 2023 9:34 pm
Digital Photo Frame
No Technical Experience Required!
Help your favorite senior stay in touch with their family and friends with this easy-to-use digital photo frame.
It takes just a few minutes to set up. You can even set the frame up and monitor it remotely – the recipient doesn't have to do very much other than simply plugging it in.
His or her loved ones can easily send pictures from their social media accounts (such as Facebook or Instagram) or through email.
The perfect birthday or Christmas gift for the 95 year old who wants to keep up with friends and family!
The New York Times Ultimate Birthday Book
Every Birthday Front Page from All 95 Years
This best-selling 95th birthday gift is a fabulous and unique way to celebrate a milestone birthday! It includes every New York Times birthday front page from all 95 years.
The 140-page book features a 24-page timeline that's packed full of photos of more than 1200 significant news and cultural events.
It also contains a collection of world-changing front pages and comes complete with an oversized magnifier for easy viewing.
The impressive book arrives in a distinctive gift box and is personalized with name and birthdate, and is available in 2 cover styles and 7 colors.
Starting at $150, it's a gift that is sure to spark memories and conversation!
Enjoy Free Shipping on up to two Custom Birthday Books or Ultimate Birthday Books at The New York Times Store. Expires 12/31/23.
Use Code: BDAYBOOKSHIP
95th Birthday Blankets
Many seniors seem to feel a bit cooler as they get older, so cozy blankets like the one pictured are great gift ideas!
Add up to 21 names or words that are printed in a heart shape. Although it's shown above with family member's names, you can add other significant words to the blanket.
A snuggly blanket is a useful birthday or Christmas present for any older man or woman, including someone in a nursing home.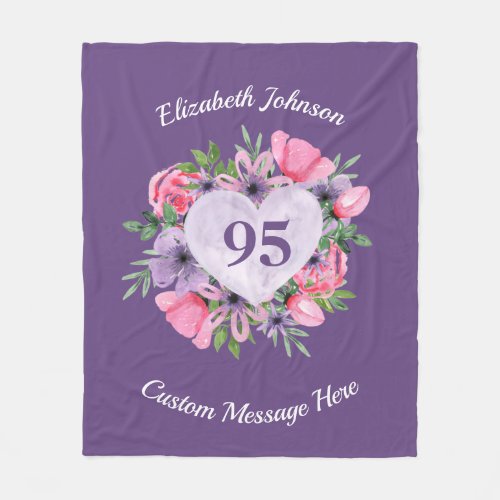 Personalized 95th Birthday Blanket – Pink or PurpleCHECK PRICE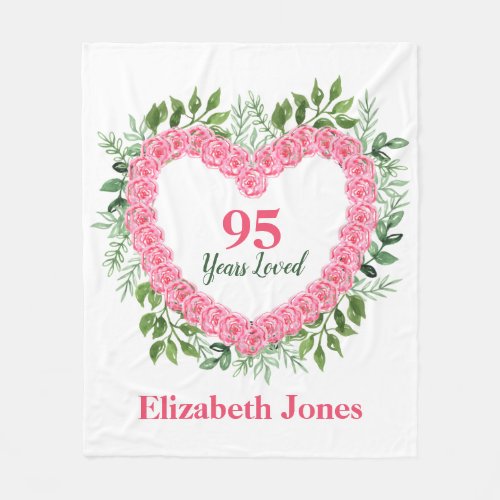 Personalized 95 Years Loved BlanketCHECK PRICE
Personalized World's Most Awesome 95 Year Old BlanketCHECK PRICE
Reasons Why Blanket – Men's and Women's Styles AvailableCHECK PRICE
Story of a Lifetime Memories Journal
Anyone who is turning 95 definitely has loads of treasured memories…this gorgeous keepsake journal is a wonderful way to record them!
Striking hard bound book features almost 500 questions that will help draw out the memories, beliefs and wisdom that they've gained over their lifetime. The recipient – or a helper – can write down the answers on the gold-edged pages.
They'll love strolling down memory lane as they fill out the book, which is sure to become a treasured family heirloom!
95th Birthday Gift Baskets
Delight a special elderly man or woman with a delicious 95th birthday gift basket! GiftTree is my top choice for top-notch gift baskets for any special occasion.
They have a vast selection of scrumptious gift baskets with prices starting at under $30.
You can even choose to add a personalized ribbon with your own Happy 95th Birthday message to many of the gift baskets.
If you need a quick-shipping gift, be sure to check out their same-day delivery gifts.
Harry & David Sweet and Savory Gift BasketCHECK PRICE
Hickory Farms Birthday Wishes Gift BasketCHECK PRICE
Birthday Champagne Gift Basket – Ships Free!CHECK PRICE
Handmade 95th Birthday Cookies – Set of 12CHECK PRICE
Happy Birthday Chocolate Covered OreosCHECK PRICE
Fresh Fruit and Godiva Chocolate Gourmet Gift BasketCHECK PRICE
Funny 95th Birthday Gift Ideas
Do they have keen sense of humor about growing older? Then send one of these clever 95th birthday gag gifts!
"You're Only Old Once" Book by Dr. Seuss
Hilarious Dr. Seuss book is just what the doctor ordered to cheer up any elderly man or woman! It's an amusing, light-hearted read that pokes gentle fun of the trials and tribulations of growing older.
Great gift for the 95 year old who has everything!
Last updated on September 24, 2023 9:34 pm
95th Birthday Coffee Mugs
Someone who is turning 95 surely needs a bit of extra caffeine to get through the day. Start your favorite senior's morning off with a smile with a clever 95th birthday coffee mug, such as the personalized Day You Were Born mug pictured above!
A mug is a cute, inexpensive gift idea for birthday or Christmas. You can use it as the base of a fun gift basket by adding coffee packets, cookies or other treats. Or you can simply give it as a stand alone gift.
Personalized 95 Years Loved Coffee MugCHECK PRICE
Personalized 95th Birthday Mug for Women – Purple or PinkCHECK PRICE
Funny Trump-themed 95th Birthday Coffee MugCHECK PRICE
Not a Day Over Fabulous Ceramic Marble MugCHECK PRICE
Personalized World's Most Fabulous 95 Year Old MugCHECK PRICE
Not Everyone Looks So Great at 95 MugCHECK PRICE
95th Birthday Wine Gifts
A milestone birthday like this calls for a toast! Make their big day even more special with this cheerful "Aged 95 Years to Perfection" wine glass.
A unique but affordable ninety-fifth birthday gift for the elderly man or woman who has everything!
Not a Day Over Fabulous Wine Tumbler Gift SetCHECK PRICE
Personalized 95th Birthday Bottle of Wine – Ships FreeCHECK PRICE
Personalized 95th Birthday Wine Bottle Label -2 ColorsCHECK PRICE
The Luxury Birthday Wine Gift Basket – Free ShippingCHECK PRICE
Funny 95th Birthday Insulated Wine TumblerCHECK PRICE
Engraved Silver Oak Cabernet in Burlwood BoxCHECK PRICE
95th Birthday Pillows
At 95, they surely deserve a chance to sit back and relax! They'll feel much more comfortable with a special pillow that celebrates the big birthday.
Zazzle offers over 20 cheerful 95th birthday pillows– many can be personalized with a name and a unique message.
Great gift for any 95 year old man or woman, but an especially thoughtful idea for the person who is in a wheelchair bound or in a nursing home!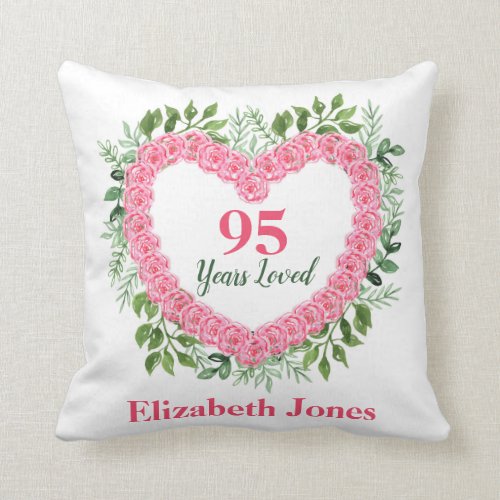 Personalized 95 Years Loved PillowCHECK PRICE
Heart of Love Pillow with up to 21 NamesCHECK PRICE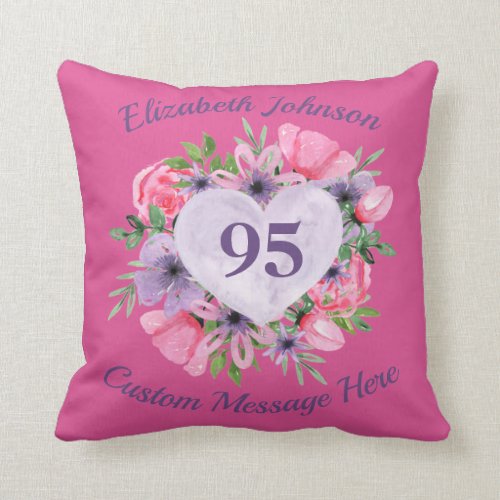 Personalized 95th Birthday Pillow – Pink or PurpleCHECK PRICE
Personalized 95th Birthday Pillow with PhotosCHECK PRICE
Gifts for 95 Year Old Woman
Wondering what to get a 95 year old woman for her birthday? Delight her with one of these creative presents!
95th Birthday Jewelry
Most women enjoy getting jewelry for their birthday, but she most likely doesn't want a necklace that screams "I'm 95!"
Go for a more stylish and understated look, such as the beautiful 1928 penny necklace pictured above. It comes with a fact card full of interesting trivia about the events of 1928.
1928 Penny Bracelet with Birthstone and Initial CharmCHECK PRICE
Birth Month Flower Necklace with Real Dried FlowersCHECK PRICE
Roman Numerals Personalized Birthdate NecklaceCHECK PRICE
95th Birthday Adjustable Bangle BraceletCHECK PRICE
95th Birthday Flowers
For a memorable occasion like this, think beyond typical flower bouquets and give one of these distinctive floral gifts.
24K Gold Tipped Real Rose – Choice of 6 Colors
Her birthday celebration will last long after the big day is over with one of these striking forever roses!
Delicate real rose is preserved and dipped in 24k gold. The gift comes complete with a heart-shaped stand.
Save money by taking advantage of Amazon prime shipping! If you're looking for a last-minute gift, this can arrive as soon as the next day.
Cake Made from Real Flowers
Any woman who is celebrating her 95th birthday has received her share of flowers. She's probably never been seen flowers like this stunning arrangement!
Seasonal flowers are skillfully arranged to form a colorful birthday cake, complete with candles. Great last minute gift – it can arrive on the same day – be sure to check shipping deadlines on site!
Personalized 95th Birthday Flower Vase
The birthday woman surely deserves flowers, and this sweet personalized vase is the perfect gift for this milestone celebration!
Choose from 5 sentimental verses or create your own for an extra special touch. Add her favorite flowers (you can pick them up at your local grocery store) for a complete gift.
Sentimental Gifts for Women
Looking for meaningful 95th birthday gifts for Grandma, Mom or another special lady? This is a perfect time to let her know how important she is to you.
Willow Tree Beautiful Wishes Figurine
Touch her heart – and let her know how much you treasure her – with this lovely hand-painted figurine!
Resin figurine stands 5.5″ – perfect for displaying on a nightstand, bookshelf or dresser. The enclosed sentiment card reads,
A gathering of beautiful wishes for you – love, health, happiness"
It will remind her of your love and birthday wishes whenever she sees it.
KindNotes Keepsake Jar with 31 Uplifting Notes
Send loving thoughts long after all the birthday excitement has come and gone with this sentimental present.
Glass keepsake jar is filled with 31 uplifting notes, each sealed in a linen envelope. She can enjoy reading them all at once, one a day, or anytime she chooses.
Available in 30 designs – the hardest part will be choosing which one she'd like best!
Gifts for 95 Year Old Man
95th Birthday Shirts for Men
Deck your favorite senior out in style with a shirt that proudly proclaims his age.
If he's feeling the cold more as he gets older (or you're shopping for someone with a winter birthday), consider getting him a sweatshirt or long-sleeve shirt. Most of the shirts at Zazzle can be printed on a variety of shirts, including sweatshirts, hoodies and long-sleeve. shirt.
Funny I'm Not 95 Shirt for Men – Choice of StylesCHECK PRICE
Personalized World's Most Awesome 95 Year Old ShirtCHECK PRICE
It Took Me 95 Years to Look this Good ShirtCHECK PRICE
Made in 1926 All Original Parts ShirtCHECK PRICE
95th Birthday Beer Gift Ideas
Now that he's turning 95, he deserves to sit back and relax with an ice cold beer! His favorite brew will taste even better when it comes from this handsome personalized beer mug.
It's a fun and affordable gift (under $25) that he can enjoy long after his big day is over!
Around the World Beer Gift BasketCHECK PRICE
Let's Make Turing 95 Great Again Beer SteinCHECK PRICE
Personalized 95th Birthday Beer Carrier or Bottle LabelsCHECK PRICE
Cheers & Beers to 95 Years Can CoolerCHECK PRICE
95th Birthday Greeting Cards
Send friendly birthday greetings with one of these cute Happy 95th Birthday cards!
Send them a huge birthday hug with a jumbo greeting card that's made especially for them! Zazzle offers oversized birthday cards in 3 sizes that are sure to impress.
The Day You Were Born Oversized Greeting CardCHECK PRICE
95th Birthday 3d Pop up Greeting CardCHECK PRICE
Prime Greetings Happy 95th Birthday Greeting CardCHECK PRICE
Personalized 95th Birthday Wooden Postcard – 6 ColorsCHECK PRICE
Talking Trump Birthday Card with Donald Trump's Real VoiceCHECK PRICE
Cupcake with Number 95 Candles Birthday CardCHECK PRICE
Looking for More Gift Ideas for Seniors? Check Out These Articles: