Neutral Halloween Decoration Ideas
Want to celebrate Halloween but keep it a little more subdued? Our list of neutral Halloween decoration ideas can help! These will help you add just a touch of spooky to your home this fall without breaking the bank or ruining the color scheme. There's no obnoxious orange or purple here!
Looking for more traditional decoration ideas? Check out our list of Halloween Decoration Ideas!
Fall Garland
Fall garland looks great over a mantle or side table!
This garland features leaves, berries, and small white pumpkins, for a neutral look that you can keep up all fall long.
This is an easy way to add some fall spirit to your home!
Throw Pillows
Spice up your living room with these adorable Halloween throw pillows!
This set has four throw pillows, each featuring skeletons in different poses and activities. It's all in black and white, so it's a nice subtle but festive touch to add to your couch or armchair.
They're available in three different sizes, so you can pick the one that will work best for your home.
White Pumpkins
White pumpkins are a must-have neutral fall decoration!
Use them as a centerpiece, add to shelves, or place them around the house for the perfect spooky look! You can also reuse them for Thanksgiving for a continuous look that will make your fall decorations complete.
With 12 pumpkins in a variety of sizes included in the set, you can create the perfect display.
Ghost Figurines in Jar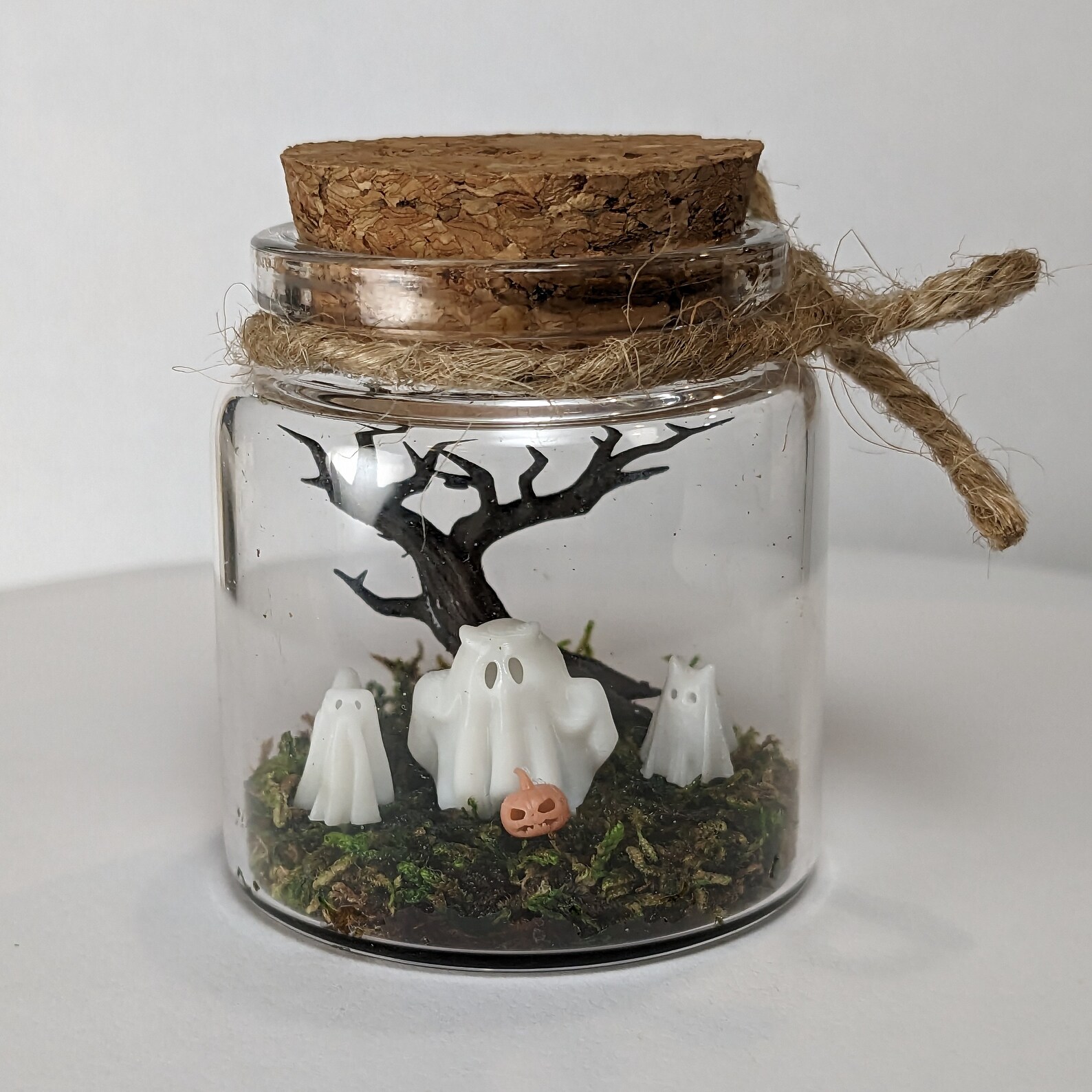 This spooky Ghost in a Jar decoration is a wonderful addition to a bookshelf or end table this fall!
Featuring a tiny ghost cat and ghost dog, this is the perfect decoration for anyone who has pets. You can pick to have up to two cats or two dogs or one of each.
This is the type of subtle Halloween decoration that will spice up your house or apartment!
Wall Bats
Bats are a Halloween classic! These wall bats can be added to any room to create a Halloween feel.
120 bat stickers are included in the set, so there's plenty to spread around the house. They're perfect for adding to a corner for a fun, festive touch that can look sophisticated.
These wall bats are surprisingly affordable as a way to decorate your home without spending an arm and a leg.
Little Ghost Candles
These adorable small little ghost candles will make a great addition to any table!
Ten candles are included in the set. Shaped as little ghosts with black eyes, these will look festive regardless of whether or not they're being burned.
Place them on your dining table, shelves, or anywhere else to create a festive feel throughout your home!
Door Mat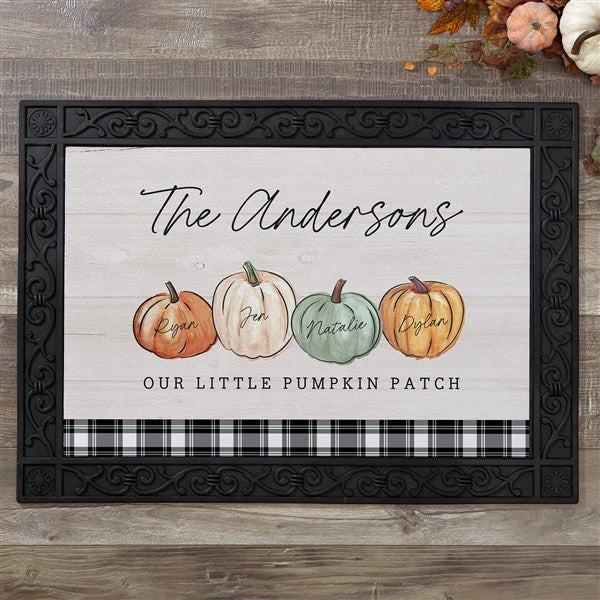 Welcome guests to your home with this personalized Halloween door mat!
Featuring your last name and the names of your family members written on multi-colored pumpkins, this door mat is perfect for your front door area. You can add up to eight names and a line of text of your choice under the pumpkins.
This is the perfect addition to any home this fall!
Neutral Halloween Wreath
This festive but subtle Halloween wreath is a great way to greet visitors!
The wreath is made up mostly of flowers in fall-like colors but also features white skulls, for the spooky touch you want in the Halloween season. It's appropriate for both indoor and outdoor use, so you can place it where it fits best in your home.
Wall Art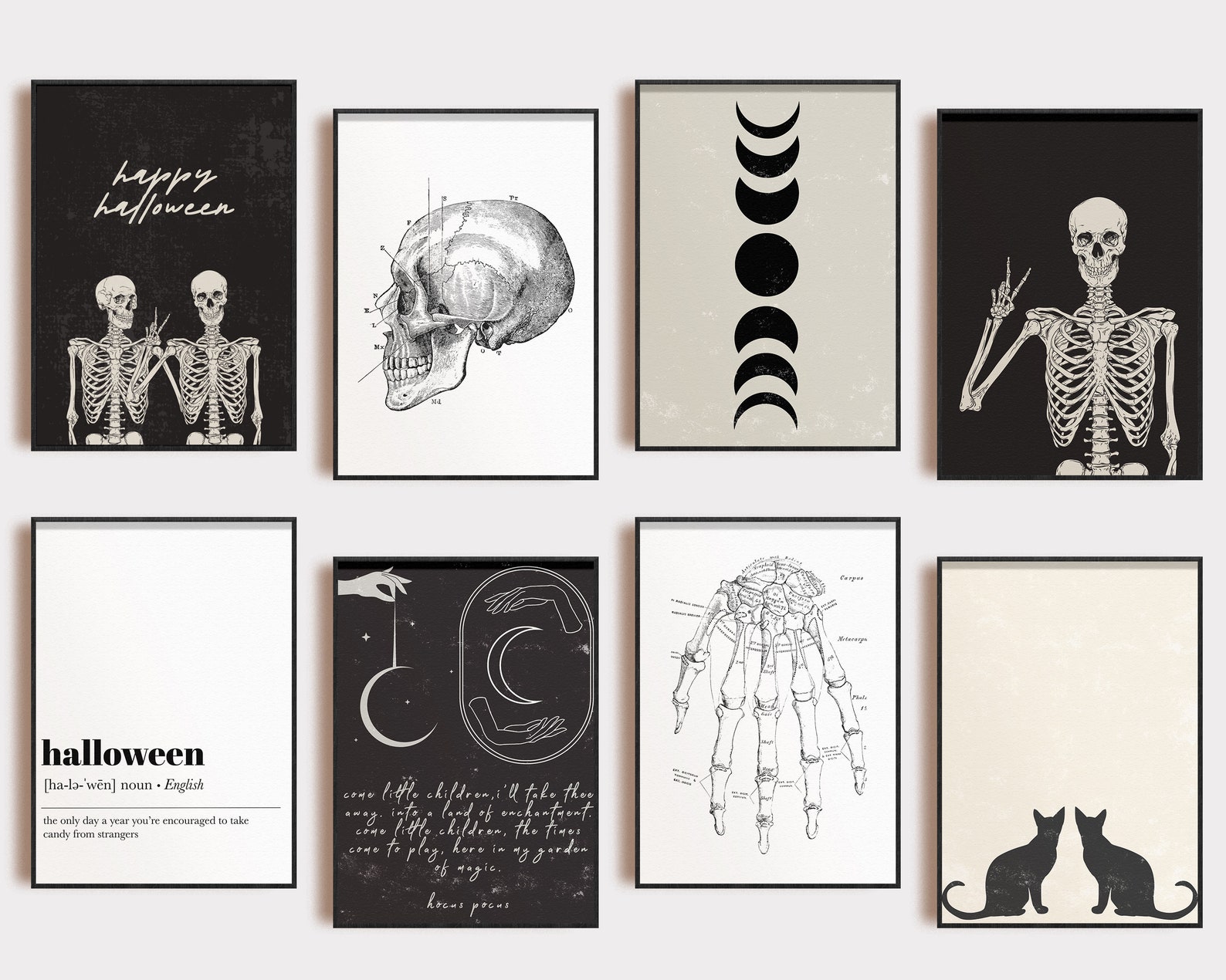 Decorate your house with neutral Halloween wall art!
This set includes twenty different printable pieces so you can mix and match them for a Halloween gallery wall that you'll love. They're each available in 15 different sizes, so you can print them to match the frame sizes you already have.
Simply choose your prints, take them to your local printing shop or office supply shop to print, and then hang them for a great Halloween decoration!
Ghost Salt and Pepper Shaker
These adorable ghost salt and pepper shakers are a subtle Halloween touch that will make your dining table feel just a little more festive!
With cute expressions, these affordable decorations are a great way to add some Halloween feel to your meals! Simply fill with your own salt and pepper of choice and sprinkle on to dishes as usual.
Black and White Halloween Dish Towels
Keep your kitchen spooky with these Halloween dish towels!
This set of four black and white dish towels features unique designs, including ones focused on witches, hocus pocus, and more.
These will look great in your kitchen and can still be used to dry the dishes!
Related: