Does a Dad in your life love whiskey? This year, get him a thoughtful gift celebrating his love of whiskey! These gifts are appropriate for Father's Day, Christmas, birthdays, and more. These unique gifts will make him smile!
Whiskey Rocks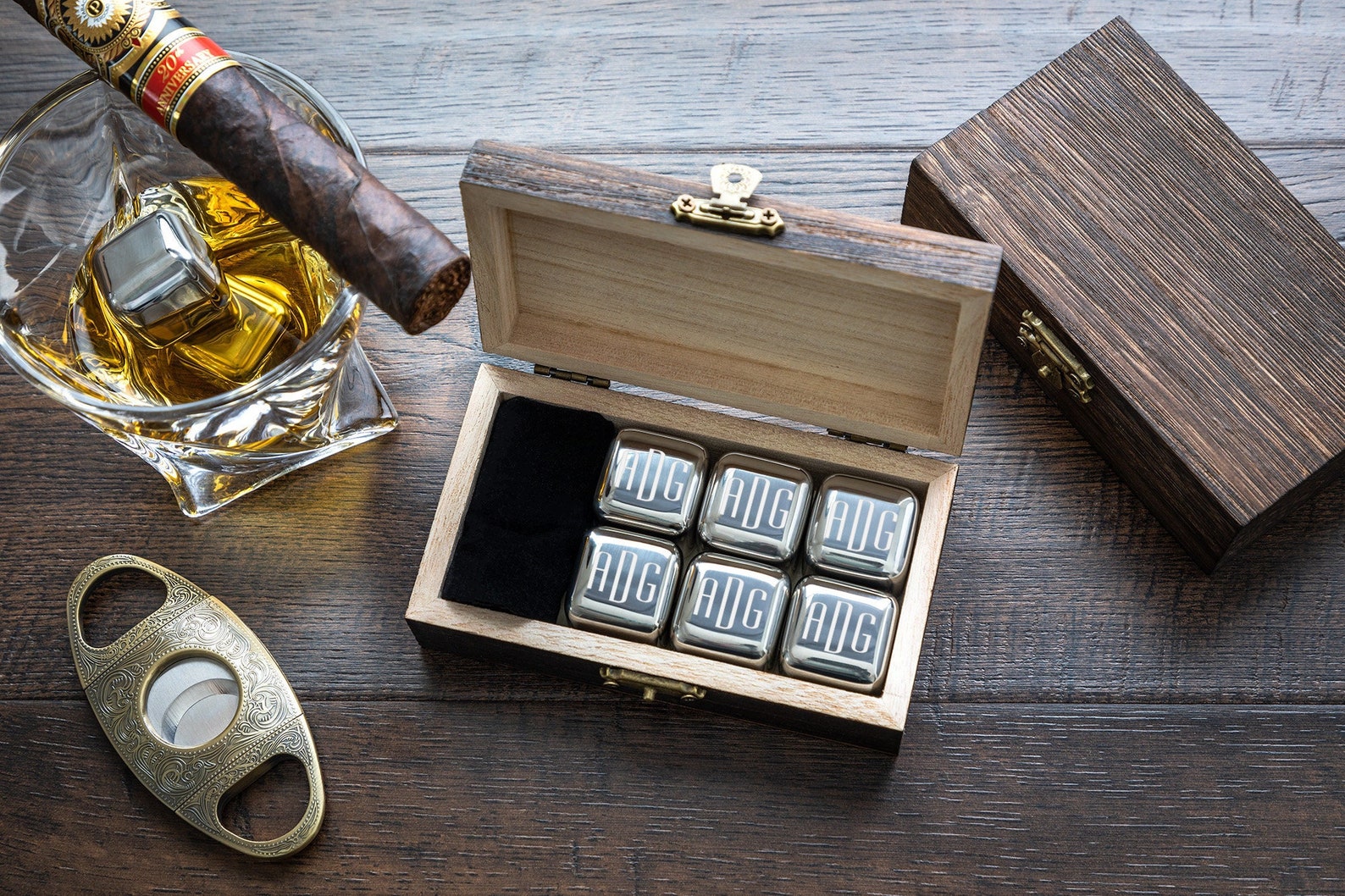 Every whiskey lover needs a good set of whiskey rocks, so this year give him a personalized set that he'll love!
Made of stainless steel, this set of three or six whiskey stones are engraved with a monogram of his initials. Included is a velvet drawstring bag for storage and safekeeping.
This thoughtful gift is available in a variety of fonts and styles, so you can find one that best fits his style.
World Atlas of Whiskey Book
This fascinating book is a must-read for any whiskey lover!
With in-depth coverage of distilleries around the world, the reader can experience the whiskey-making process from around the world from the comfort of their home.
Full of beautiful color photographs, this gift will make a wonderful addition to Dad's bookshelf!
Personalized Whiskey Date Glass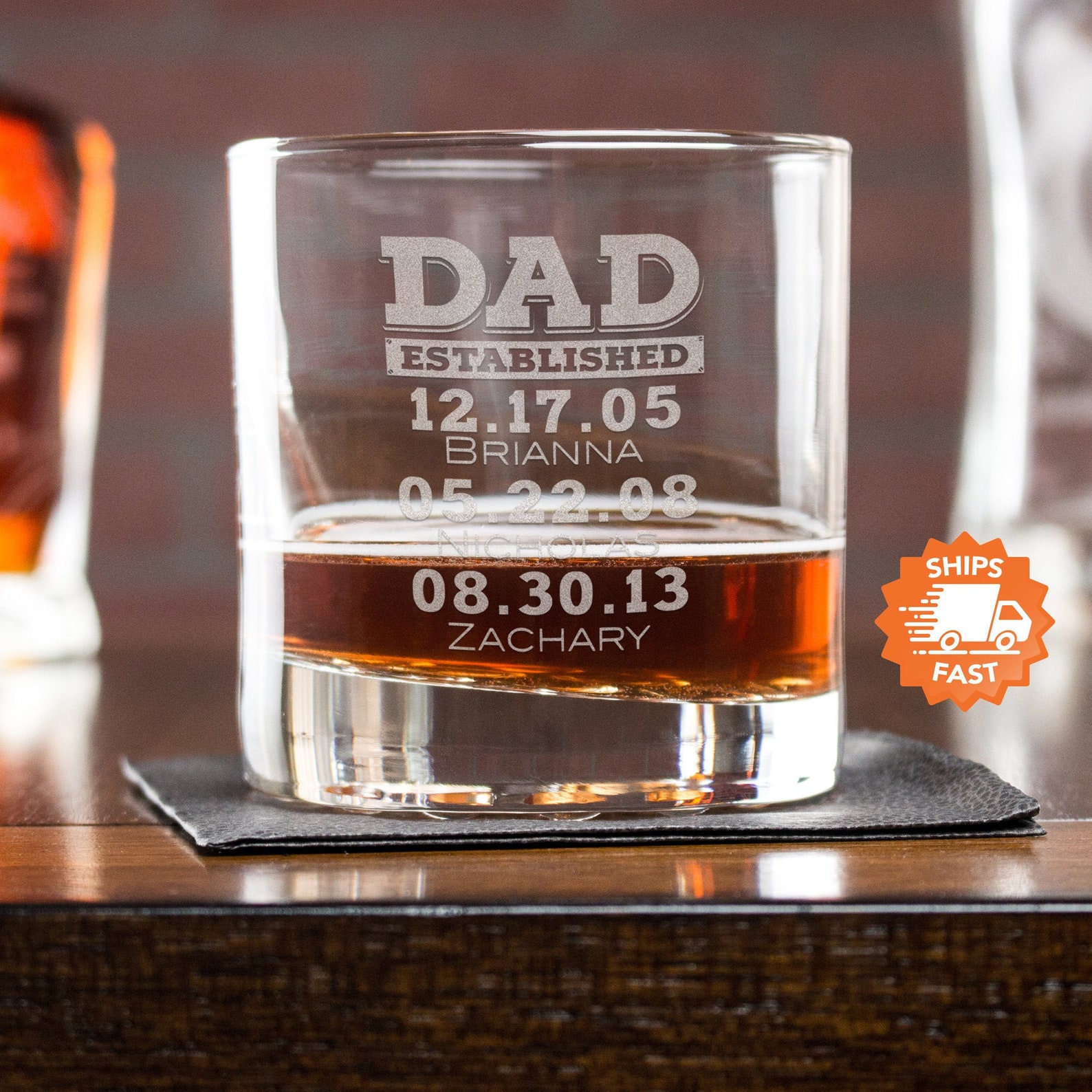 Celebrate fatherhood with a personalized whiskey glass!
This personalized whiskey glass includes the title of your choice (dad, grandpa, papa, etc) and up to six birthdays and names of children or grandchildren.
It's a unique gift that Dad will love!
Whiskey Gift Basket
Want to give Dad a chance to try different whiskies? This Ultimate Whiskey Sampler Gift Basket makes a wonderful gift!
With nine different bottles included, as well as some snacks and a tumbler, this gift basket is a great gift for any dad who likes to try different whiskies from different brands. You can also add other items, like cigars, to make a custom gift that he'll appreciate.
It ships as soon as the next day, so it's a great last-minute gift!
Bourbon Barrel Flight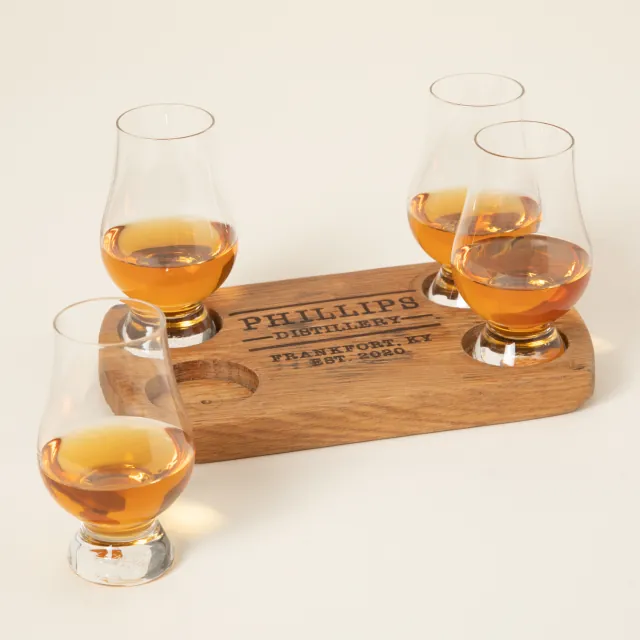 Let him enjoy his drinks with friends with a personalized bourbon barrel flight!
Made with a reclaimed bourbon barrel, this flight includes four glasses and is personalized with a name, location, and year of your choice.
It's perfect for sharing a drink with friends or sampling a variety of bourbons!
DIY Whiskey Kit
This unique gift will allow Dad to put his own twist on his favorite whiskey!
The DIY whiskey kit gives Dad the power to infuse his own whiskey with his own flavor combinations. It includes three different types of wood chips and six different types of botanical for a variety of combination possibilities.
This is the type of gift that's perfect for a Dad who has everything!
Whiskey Decanter
A unique whiskey decanter is the perfect gift for any whiskey-loving dad or granddad! While there are many to pick from, an one-of-a-kind decanter that captures his personality makes an extra-special gift!
This personalized whiskey decanter includes his last name laser-engraved onto a glass decanter and has the option to add glasses with it, as well. You can pick from several designs and add a year, as well.
This is the type of gift he can actually use and appreciate!
Funny Socks
Searching for an affordable gift that Dad will still appreciate? Why not a set of funny socks?
The set features three pairs of socks with three different patterns. At the foot of the socks, all say "If you can read this, bring me some whiskey."
It's the perfect funny gift for any dad or grandpa who likes to relax with his feet up, sipping a glass of whiskey!
Custom Photo Whiskey Glass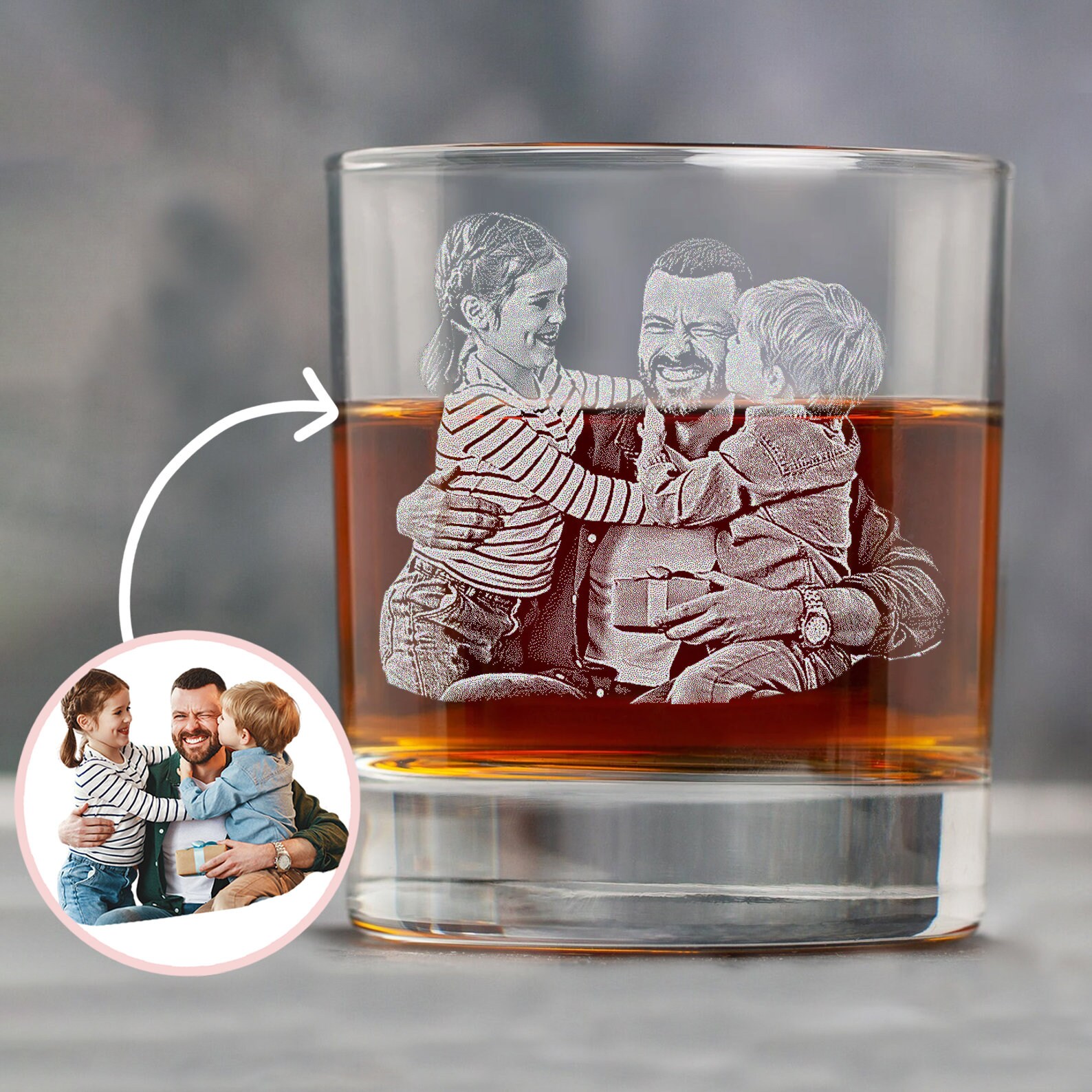 Want a unique gift that will blow his mind? A custom photo whiskey glass is unlike anything else he'll receive this year!
Choose any picture you want and it can be engraved on this glass whiskey glass. You can also add a line of text for a truly personalized touch.
This is a gift that he'll love to use!
Cocktail Smoker
With this cocktail smoker, Dad can create incredible drinks at home!
This set includes a torch, a smoke infuser, four different flavors of wood chips, and more! The kit can also be used to smoke cheese and meats.
This thoughtful gift will make a great addition to any bar.
Funny Shirt
A funny shirt is the perfect affordable gift for a dad who loves whiskey!
There's a large variety to pick from, but I love this "Call Me Old Fashioned" t-shirt. It's available in several colors and sizes.
This is a practical gift that he can wear while relaxing!
Personalized Oak Whiskey Barrel
This personalized gift is unlike anything else he'll receive this year!
Made of oak wood, this personalized whiskey barrel is available in 2-liter and 5-liter capacities. It allows Dad to impart flavors and age whiskey in his own home.
This is one unforgettable gift that he's sure to love!
Scratch Off Bourbon Poster
Set Dad a challenge to try the world's best bourbon with this scratch off bourbon poster!
Featuring 50 of the world's best bourbons, this poster allows Dad to scratch off each of the ones he has tried. It will make a great addition to any man cave or bar area!
Step the gift up by giving him one of the bourbons on the poster to try!
Related: